Nomadia Delivery

, the DMS platform for managing logistics flows

In a context where transport and logistics players are facing new economic and ecological challenges, Nomadia Delivery brings together the best of optimisation and traceability to design a more efficient and responsible supply chain.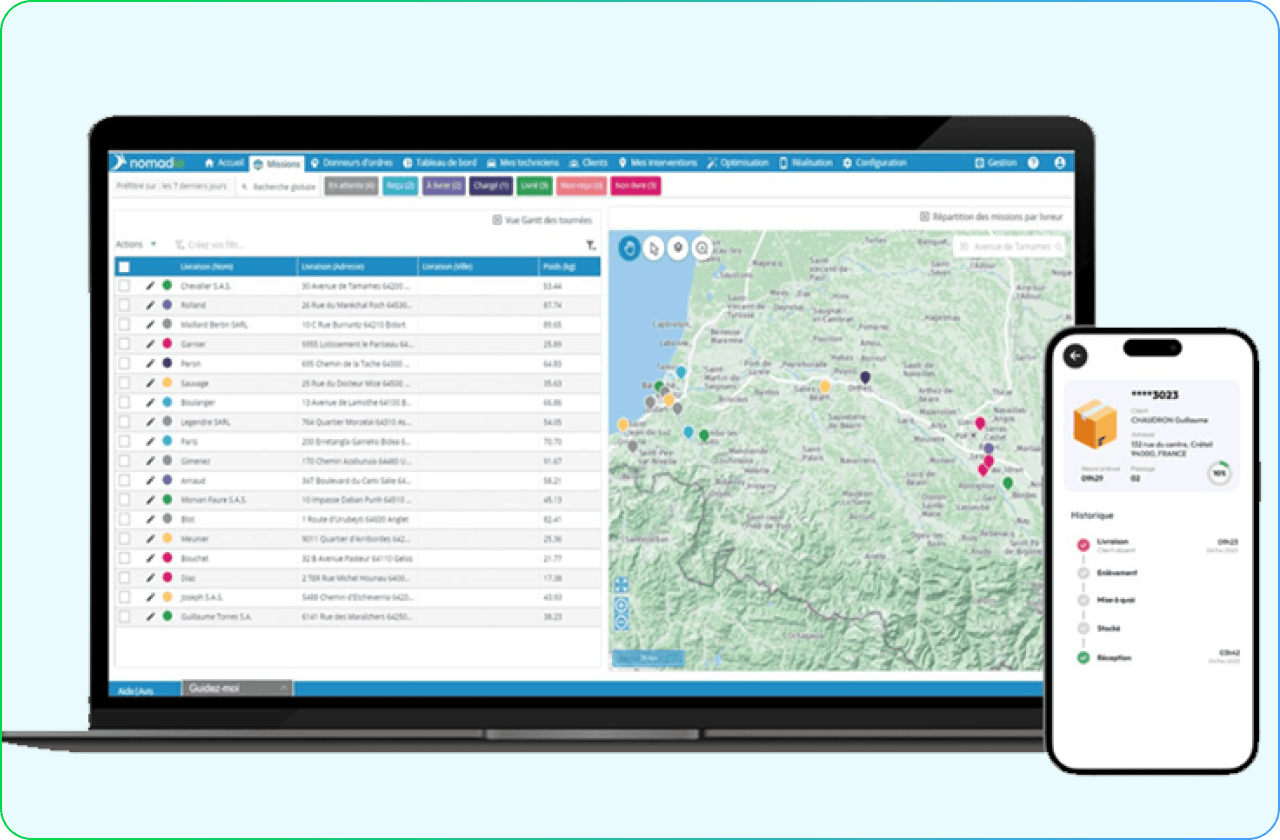 Delivery optimisation

and supply chain

traceability

For shippers and last mile carriers, Nomadia Delivery is the ideal solution to optimise and reduce the environmental impact of your logistics activities.

Seamless parcel traceability
Control your entire supply chain with full traceability of your business. With Nomadia Delivery, tracking begins at the warehouse and continues through to delivery (including return), whereas most existing solutions only track packages from the time they are loaded onto the truck.

Eco-responsibleappointment scheduling
By grouping deliveries in time and space, reduce the distance travelled and CO2 emissions. Rationalise all the movements of your field teams by adding these deliveries to existing routes as soon as the order is taken and by pooling your logistics flows.

Route optimisation
Build optimised route plans with precision and improve the productivity of your drivers and subcontractors by 20 to 30%. By optimising vehicle movements and delivery driver walking, Nomadia Delivery is the only DMS platform to reduce the number of delivery vehicle stops.

Compliance with regulations
Be sure to comply with current regulations while maximising your productivity gains: take into account the Low Emission Zones (ZFE), regular updating of traffic speeds thanks to state-of-the-art geocoding supported by precise algorithms and geographical data.
What makes the
Nomadia Delivery

solution

unique

?

Discover the main features and capabilities of our solution.
With Nomadia Delivery, traceability begins at the warehouse, whereas most existing solutions begin when the truck is loaded. Received, loaded, to be delivered, delivered, waiting, undelivered, returned... you can track the status and location of your parcels in real time. And this tracking also benefits the recipient, who is kept informed of all stages of delivery, from the moment the parcel is picked up to the arrival of the delivery driver.
Nomadia Delivery connects to your online ordering portal and call centre to maximise route optimisation. Thanks to the eco-responsible appointment scheduling system, deliveries are grouped together in time and space as soon as the order is placed: productivity gains and reduced distances guaranteed!
The solution allows the construction of route plans mixing different types of transport and thus adapts to hybrid delivery fleets: car, truck, bicycle, scooter, pedestrian, etc. Nomadia Delivery is the only DMS platform to reduce the number of stops for delivery vehicles by favouring delivery on foot of parcels located within a limited perimeter and respecting the defined load thresholds.
Carbon emissions associated with delivery routes are automatically calculated by Nomadia Delivery. Supply chain actors can thus accurately measure their environmental impact and more easily publish their carbon footprint.
The mobile application is intended for delivery drivers, operating staff and order pickers, and makes it easier and more reliable to carry out their tasks. Thanks to the digitalisation of your business processes, your field teams gain in efficiency and performance and their working conditions are improved.
Nomadia Delivery users benefit from a real expertise and mastery of geography, which is essential for maximising savings through optimisation and defining routes adapted to the terrain: taking into account the Low Emission Zones (ZFE), regular updating of traffic speeds, the most efficient geocoding on the market, etc.
Nomadia Delivery makes logistics operations easier and more reliable with a range of professional mobile terminals (PDAs) that Nomadia experts maintain and support in the field.
Nomadia Delivery Essentials
Nomadia Delivery Premium
Preparing tours

Bar code label generation & printing

Transport documents (loading slip, waybill, etc.)

Route calculation on simple vehicle profiles (car-truck)

-
Tracking goods

Track the status of parcels, pallets, etc.

Customize tracking status

Archive delivery history (proofs, events, all entries)

Real-time tracking of route completion

Communicating with the recipient

Follow-up notifications by e-mail and sms* (precise visit slot, Estimated Time of Arrival, delay, cancellation…)

-
-
-
Mobile application

Android / IOS mobile application

Application available in offline mode

Photos & signatures in reports

Deliver and collect goods

€10
€10
Administration

User rights administration

Thematic dashboards and KPIs

Integration

Functionality integration via API

Interface for displaying optimization results

Hosting
5.000.000 missions
Please contact us
Customer support
On quotation
On quotation
What
our customers

who optimise their logistics have to say about Nomadia's solutions
A complete solution and ultra-precise traceability

Nomadia Delivery brings together the best of parcel traceability and route optimization. With our Last-Mile Delivery Management System (DMS) platform, you build an efficient and responsible logistics chain.
By reducing the miles traveled, you also decrease your CO2 emissions.
Nomadia Delivery users have genuine expertise and geographical mastery to optimize delivery: consideration of Low Emission Zones (LEZ), regular updates of traffic speeds, the market's most efficient geocoding, and more.
Nomadia Delivery also allows you to track your parcels from the warehouse to delivery at your customer's location, while informing the recipient of the various delivery stages.
Nomadia Delivery is a versatile solution applicable to various sectors.
It is well-suited for companies looking to efficiently manage their logistics flows while being eco-friendly.
The mobile application offers specific interfaces for each profile, tailored to the needs of each organization and profession (internal or subcontractor).
From the first quarter of use, intelligent planning and route optimization enable you to increase the productivity of your delivery drivers and subcontractors by up to 30%, notably by reducing the number of miles traveled during deliveries.
Yes, Nomadia Delivery provides real-time tracking of activities in the field.
It allows you to monitor the real-time locations of your mobile workers on a map, contributing to an improvement in service quality.
Moreover, the all-in-one mobile application provided to drivers, operations agents, and order preparers streamlines and enhances mission reliability.
Yes, Nomadia Field Service offers different versions, including an API for integration with your existing systems.
Designed to be adaptable, it allows for the import and export of data, facilitating information sharing in the field with your team and clients.
Our
news and advice

on logistics
Request a
personalized demonstration

or a quote

Want to learn about our prices, receive a personalized demonstration of Nomadia Delivery, or request a specific quote? Enter your contact information below, and our experts will get back to you as soon as possible.
Any further
questions

?

You'll find the answers to our customers' most frequently asked questions here.
Nomadia is the leading French publisher of SaaS Smart Mobility solutions, guiding more than 175,000 professionals in the field every day. Our solutions are easy to use and quick to roll out, and they guarantee a significant, immediate return on investment.
Combining the expertise of a software integrator / editor with that of a consulting firm, Nomadia's teams provide you with customized support, from data consulting to the roll-out of mobile terminals. Moreover, our technical support is available 24 hours a day, seven days a week.
Nomadia solutions guide the digital transformation of all types of mobile professionals: traveling sales representatives, delivery drivers, technicians, auditors, healthcare personnel, diagnosticians, service providers, patrolmen, experts, and more.
From small- and medium-sized companies to large corporations, our solutions can be adapted to companies of any size and in any sector.
Each Nomadia solution consists of a ready-to-use SaaS which includes a back office and a mobile business application specially designed for field operations.
Our APIs and their many connectors allow you to integrate our technologies into third-party applications, whether those are custom solutions or market standards.
Our consultant teams can also help you set up a customized solution that is perfectly adapted to your business processes.
Yes! Contact our team to get an evaluation version of the solution of your choice.
As a company committed to the planet, Nomadia naturally asserts a strong CSR (Corporate Social Responsibility) approach. We integrate social, ecological and economic issues into everything we do.
By optimizing the mobility of mobile professionals, our solutions help improve our customers' productivity, the well-being of their employees, and the impact of their businesses on the environment.
The Nomadia teams are available to answer all your questions: