[Interview] Maintenance intervention planning: a strategic challenge for ENGIE Solutions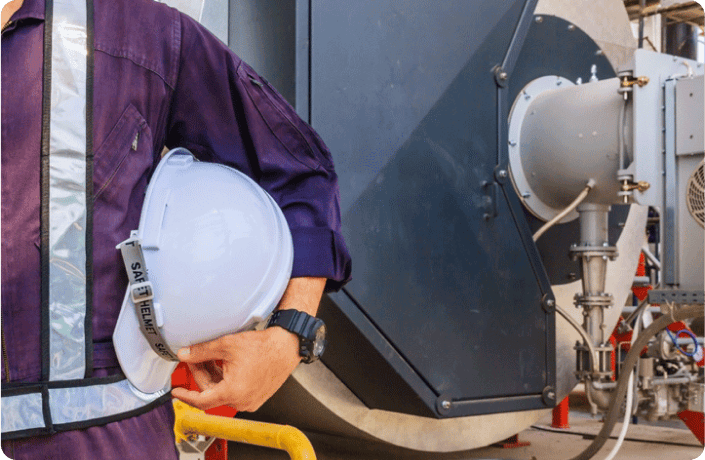 From the 1st January 2020, all of the ENGIE group's B2B* energy operations will be incorporated under the umbrella brand ENGIE Solutions. Previously structured by business activity, each work stream will now be organised into 3 customer-focussed business units: Town and Local Authorities, Industry, and the Tertiary and Proximity sector. Patrick Hourqueig, Director of Tools & Processes for the latter, highlights the challenges and what's at stake in scheduling interventions for the 7,000 technical staff and field workers carrying out installation maintenance for ENGIE Solutions' customers.
Has the creation of ENGIE Solutions changed your maintenance management and your role within this organisation?
Not fundamentally. The current climate of restructuring we are driving is aimed at strengthening our customer focus by maintaining a single point of contact for business operations. In the case of installation maintenance, it continues to be organised on a regional basis whereby each installation is allocated to the nearest service delivery point. The scope and operations for each agency remain unchanged to ensure service continuity and fulfilment of our contractual obligations. We need, nonetheless, to achieve convergence of tools and processes. This has been my objective over the last twenty years, implementing and directing the planning system, and during the past decade, I've been looking more specifically at the solutions used by each agency's planning units to organise the work of individuals in the field and ensure they complete all the necessary work on time.
You have a vast range of different installations. What challenges does this diversity pose when planning onsite interventions?
Boilers in residential buildings and offices, air-cooling towers on industrial sites, cogeneration power systems, heating and refrigeration networks…. Yes, we do handle a multitude of installations and our mission is to ensure their nominal operation. Each has its specificities but they are all subject to a host of regulations: environmental, operational and health & safety. For each installation this means a certain number of regulatory visits, the frequency of which will vary from site to site, and which will all require different kinds of expertise.
In addition to the regulatory angle, operational maintenance interventions have to be scheduled for the year at intervals from one week to one year depending on the type of installation and contract. It goes without saying that monitoring and maintenance is far more demanding for industrial sites operating continuously 24/7 than for domestic boilers which, nevertheless, are not without some constraints – for example, you wouldn't normally be carrying out an annual service on a boiler for a residential block in mid-January!
These interventions are therefore programmed on an annual basis for each installation. The operating challenge for our teams is to oversee everything, while taking on board any unforeseeable events that can't be anticipated – breakdown or malfunction – requiring corrective maintenance that can be needed urgently.
How do you organise your resources in the field?
Each installation is managed by an agent. Each agent has technicians assigned to service a certain number of installations. Most technicians working for our agents are mobile. They have a car, their tools, replacement parts, etc. and are their own boss when it comes to how they carry out their technical work. However, their schedule is planned by the agent on a weekly basis.
Every Friday, the technicians are given their schedule for the following week which is drawn up by the agent's scheduling team. The fact that this process is centralised means that all aspects of the work can be evaluated and each task can be delegated to a technician who is available and has the right competencies for the job.  In this way, any specific customer time constraints can be taken into account, as well as the estimated length of each intervention and, of course, the legal number of working hours permitted per day.
What tools do you use to plan the technicians' workload?
For the last ten years all our planning work has been done using the solution Nomadia Field Service, used by our scheduling teams for scheduling and dispatch. The schedulers draw up weekly, monthly, quarterly and/or biannual maintenance visits as stipulated by the maintenance contract. They establish an annual schedule that serves as a baseline for smoothing the technical workload. They are also the staff responsible for tweaking schedules to incorporate any contingencies during the week.
The dispatchers, for their part, deal with corrective interventions. During working hours, they receive and analyse customer requests. If the intervention required is not urgent, it is inserted into the work schedule of the technician in charge of the installation and, where possible, scheduled alongside the next planned maintenance appointment. For urgent cases, the task is assigned to the technician currently on call-out duty for corrective operations.
Performance Energy Managers within each team also have access to Nomadia Field Service. If they notice a problem at one of their allocated installations, they can either check whether there is a planned intervention in the near future, or trigger an immediate intervention, sometimes even before the client has detected the operating fault in their own installation.
How is the technician notified about their assignment to an unplanned intervention?
Our mobile field technicians are all equipped with a tablet that has internally developed software and access via the Nomadia Field Service interface. They can access their weekly schedule through this application and their daily schedule in diary format along with the corrective interventions assigned to them. This mobile device allows them to carry out all their monitoring and surveillance tasks, upload start and finish times for each intervention, and issue the customer with all the relevant paper work once the intervention is complete.  Task notices and quote forms are a thing of the past, and so operations are now almost paperless. The mobile device is synced to a GSM network whereby the operator who takes the calls out-of-hours, the team leader or the scheduling unit can all contact the technician if necessary.
What have been the most significant changes in intervention management over the last 10 years, whether planned, unscheduled or urgent?
The shift to daily planning for technicians has been a major change. In the old days they used to receive their monthly schedule and it was left to them to organise their work. We knew that interventions had been carried out, but we didn't know exactly what had been done. So we found it hard to write up reports and gather together the paperwork and send them to customers in a respectable timeframe.
The tools and operations management that we've implemented now enable us to track daily activity and monitor almost in real time whether an intervention is currently taking place, completed or delayed. In this way we can keep customers updated and adjust the schedule week by week. Any interventions that are scheduled but unfinished are put on a waiting list. At the end of the week, the planners look over the week's work and in consultation with team leaders, re-plan these interventions and reorganise the task list for the coming week.
In the background, the real change has been our ability to take on board extra criteria, most importantly, the feedback uploaded from our mobile technicians. This allows us to optimise schedules, smooth workload, and manage anything unexpected. Thanks to the geo-tracking of installations and all the initial parameters that we input into Nomadia Field Service, the software automatically organises our technicians' schedules and incorporates any changes needed. At the same time, it gives us an overview of operations by team, by technician, by agent, and by activity type for any given period.
All this equates to good management of our installations in terms of technical deployment and efficient management of contracts and human resources. This is key to both profitability and customer satisfaction.
What would help you to be even more efficient?
We are keen to exploit some additional Nomadia Field Service features which we are currently testing or plan to test soon. In particular, the potential to monitor traffic conditions in real time. In a busy urban context, this would enable us to decide whether our technicians can respond to urgent call outs and to notify the customer of their arrival time. Vehicle tracking could also be useful as it would mean we can see which technicians are nearest to a call-out location whilst taking into account their area of expertise. In other respects, we are planning to use Nomadia software to optimise our technicians' workload and reduce their journey times to reduce our carbon footprint.
There are interesting developments afoot in how we might monitor installations remotely and potentially improve prevention. New audio-monitoring solutions mean that we can detect wear and tear on a roller or a belt. Audio detection of anomalies can be automated through machine learning. It is still quite complicated as this requires the system to understand and learn about how the installation operates at nominal level. Any variation from the norm in the sound of the machine highlights a potential problem and can trigger an intervention if necessary. Eventually, over time, remote audio and video monitoring will be able to generate a request for prevention or repair intervention and these will be automatically integrated into the scheduling. The same goes for the chatbot which will analyse requests from certain types of customer.
What advice would you give to someone implementing a scheduling system in a similar field to yours?
When the manufacturer delivers an installation, they provide technical instructions and a pre-defined maintenance task list. This task list has to be slotted into a yearly schedule. Then you need to check that these mandatory interventions are timetabled for the right periods. As I said before, you wouldn't carry out annual boiler maintenance in mid-winter and school building maintenance can only be done in the school holidays, etc.
All these aspects need to be set out for the year for each installation. Then you reconcile these with availability of technicians, their expertise, and installation portfolios as well as seasonal peaks and troughs. It's what we call resource smoothing and it's a complex stage because it has to take a number of human parameters into account: the summer holidays, of course, but also specific aspects of an individual or of a place.
For example, in some regions, technicians who like hunting will request holiday in September. This may seem anecdotal, but far from it! On the Basque coast, if you want to maintain staff morale and service standards in your company, you have to incorporate the chipiron squid fishing season into your calendar! It's part of life.
Using this approach, you can schedule 70-80% of annual activity for your technicians, giving them oversight, while keeping a degree of wriggle-room and flexibility for any unknowns and unplanned interventions.
* ENGIE Axima (climate control), ENGIE Cofely (energy and environmental efficiency services), ENGIE Ineo (integrated home automation and smart cities solutions) and ENGIE Réseaux (heating networks for local authorities)