Sodis - Groupe McCormick
SODIS, a field marketing specialist, opted for territory management and route optimization solutions TourSolver and Territory Manager to optimize its 150 field sales promoters.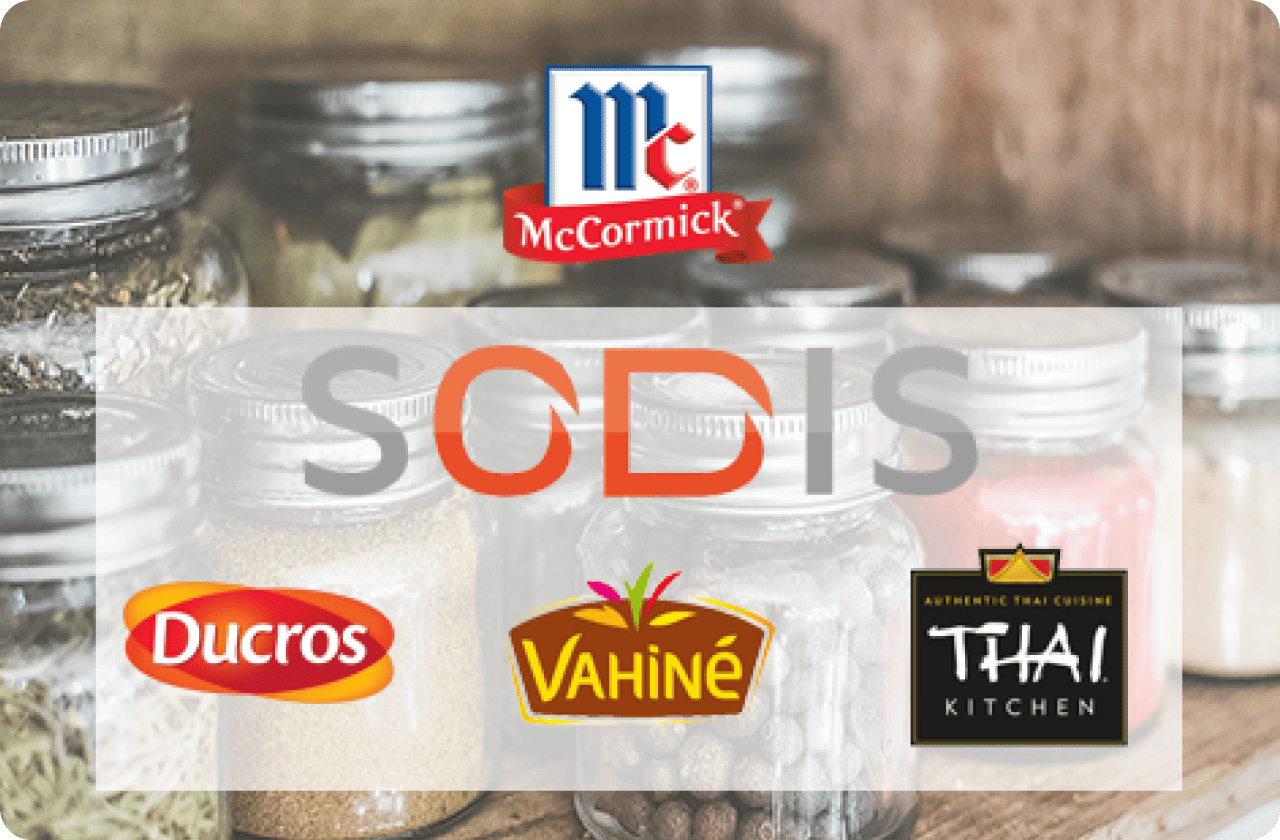 SODIS : challenges and the solution brought by Nomadia
About SODIS
A subsidiary of the McCormick Group (a world leader in spice business and flavors), SODIS is a major field marketing player specialized in managing and optimizing shelf space for the Ducros and Vahiné brands. The company's aim is to promote these brands' new products and to make it easy for shoppers to find the spices, peppers and other baking ingredient products they need in more than 4,500 stores, supermarkets and hypermarkets throughout France
Key Figures
Subsidiary of the McCormick Group, a world leader in flavors
established in 1984;
around 280 employees;
150 field sales staff covering the whole of France;
120,000 in-store visits per year;
12,809,000 euros in sales in 2018;
interventions in more than 4,500 points of sale.
The challenge
Organized into 20 regional teams, the SODIS field sales staff pay more than 120,000 store visits a year, representing a distance travelled of around 5 million kilometers. The company was looking to optimize its field sales promotion staff's routes to reduce mileage and time spent on the road, with the added bonus of increased efficiency, productivity and working comfort.
Having accurate and relevant data at its disposal is also a strategic issue for SODIS, which wants to respond efficiently to Ducros and Vahiné objectives and offer these brands' customers the very best quality service. With call schedules initially generated from its sales staff's experience of the ground, SODIS decided to turn to a solution making it possible to automate route planning and obtain a comprehensive analysis of the information on field sales promotion staff movements (travel time, mileage, customer constraints…).
The solution brought by Nomadia
SODIS decides to turn to Nomadia and deploy TourSolver, a software solution that automates and optimizes route plan management. Piloted from the company's geomarketing cell, this tool enables SODIS to define optimized call plans. As a bonus, in certain regions, productivity gains of up to 15% in journey time and 20% lower mileage.
A few months after implementing TourSolver, SODIS decides to complement the solution with the advanced Territory Manager sectoring solution, to achieve an overall view of the call sectors and standardize headcount allocation by region. This additional analysis also made it possible to define route organization on a bigger scale and better balance field employee workload in the various sectors.
Opti-Time TourSolver and Territory Manager Achieve greater leverage of geomarketing tools to optimize daily activities
Encouraged by its success in deploying the TourSolver and Territory Manager tools, SODIS now wants to extract greater benefit from geomarketing tools to optimize its day-to-day activities, thereby:
cutting field request response times,
better defining the locations where future employees will be recruited,
scheduling field routes to replace employees when they are on vacation.

Productivity

Time

Work conditions
"Thanks to the Opti-Time TourSolver solution, field sales staff paying store visits enjoy greater flexibility and working comfort and can concentrate more on their core business of point-of-sale service. Beyond the tangible statistical results, our field teams feel better supported and can take better account of new brand constraints. Our teams recognize the relevance and efficiency of GEOCONCEPT's tools. If we have achieved our initial objective of a 15% reduction in travel time in a number of regions, we are certain that this objective is achievable at the national level in France by optimizing the use of geomarketing solutions. We are therefore keen to improve our migration support for these tools, in particular by integrating them with our GPS and ERP systems."
Cyril Gache, SODIS Director