TourSolver

, the SaaS solution to optimize your logistics routes.

Generate realistic, cost-effective route plans and track their execution in the field in real time.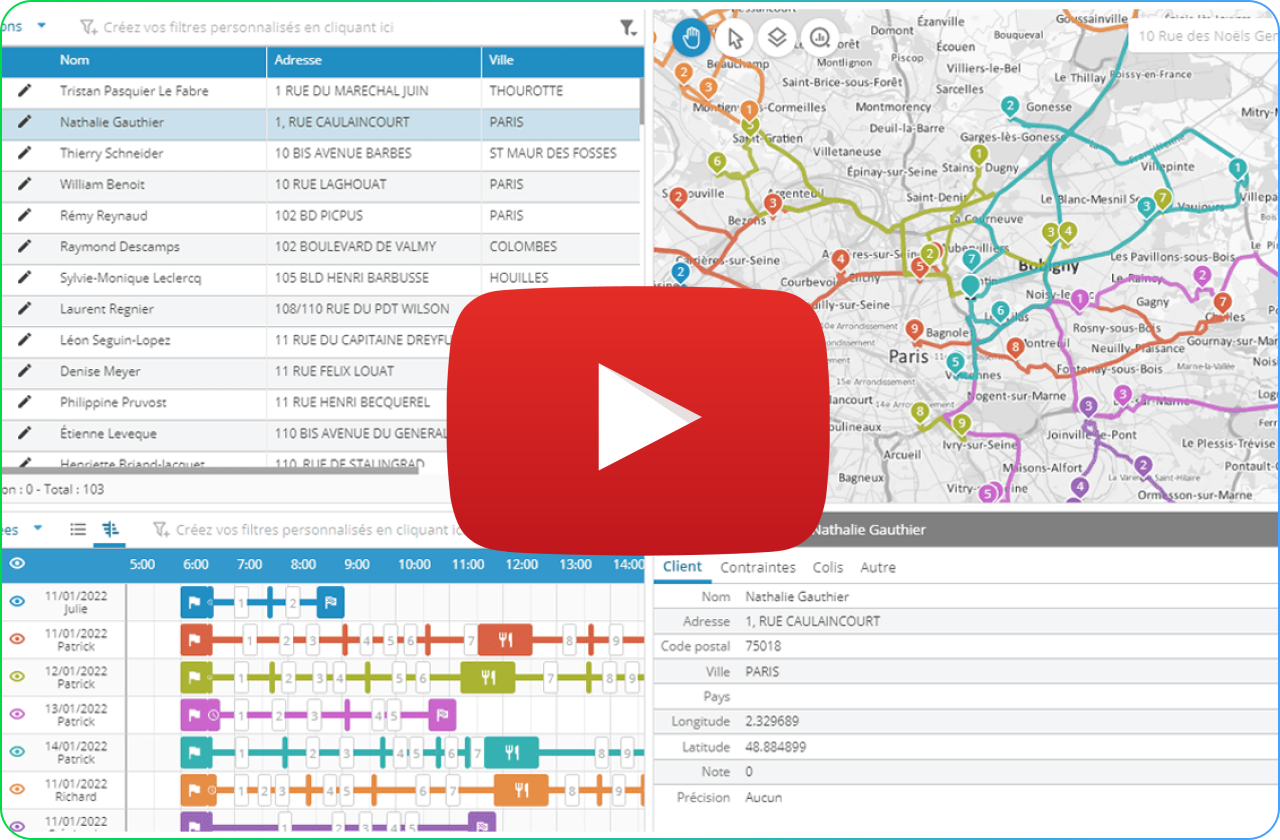 Based on user feedback from Gartner Peer Insights, Capterra and GetApp. Sourceforge Top Performer Winter 2023.

Since 2017, Nomadia has been recognized in the Gartner® Market Guide for Vehicle Routing and Scheduling and Last-Mile Technologies. View more >
20 to 30%
increase in productivity

.

TourSolver is the benchmark solution for optimizing logistics from first to last mile: your delivery, distribution and collection routes become more pertinent and cost-effective.
100% reliable routes
Taking into account all your specific parameters and those of your customers allows you to obtain realistic, reliable route plans while gaining 20 to 30% in productivity.

15% reduction in distance traveled
Smart appointment scheduling and route optimization drastically reduce the distance covered, saving in fuel consumption and CO2 emissions.

Fast ROI
guaranteed
Optimizing vehicle fill rates, pooling resources and digitizing delivery personnel all improve cost-effectiveness and team productivity.

Optimized service quality
Customers can rely on the schedule that they have selected, since drivers arrive on time. The customer gets information in real time at each stage of the delivery.
All the
features

.

With TourSolver, you can generate realistic, cost-effective circuit plans and track their execution in the field in real time.
Creation of optimized route plans:
More than 150 specific parameters may be taken into account by the AI optimization engine;
up to 11 modes of transport, including electric vehicles;
consideration of traffic, weather conditions and prohibited transit zones;
subcontractor management, etc.
Assisted, automated scheduling for real-time optimized delivery slots. Whether directly integrated into your online site, connected to your call center, or accessible from your technicians' or subcontractors' mobile application, this feature guarantees that your work is globally optimized, offering a real competitive advantage.
Sectors may be divided according to delivery volumes: TourSolver helps you balance your workload by optimizing your geographic sectorization before establishing circuits.
Digitalization and safety of transport instructions thanks to traceability functionalities such as scans and photos. Do you want to go further? From the geolocation of actions to the management of flow security, including visualizing of on-board mobile stocks or configuring responsibility transfers ( transfer to warehouses, multi-deliverers, returns management), Nomadia offers a complete DMS platform that helps you manage the delivery of your parcels in real time.
Analysis of optimization results, performance monitoring dashboards, comparison and examination of various optimization simulations, and visualization of variations. Looking for an all-in-one tool? Toursolver offers a dedicated simulation version that allows you to define optimal route plans by instantly analyzing the impact of your various scenarios on your organization.
This multi-platform mobile application helps your field teams organize and perform their tasks: agenda management, navigation, report entry, reporting of information on delivery status, signatures, photos, lone worker protection, etc.
TourSolver features a specialized Lone Worker Protection module. Because it generates and processes automatic and optional alerts, TourSolver is a valuable assistance device that improves field team safety:
fall detection system
detection of prolonged immobility
positive security
SOS button
Because the fleet is geolocated, the planner can monitor the execution of the circuit in real time: view whether interventions are timely or late, view rescheduled or cancelled appointments, and see the difference between the projected and achieved schedules. Alerts make it possible to react quickly to any hazards and keep the customer informed.
A number of functions are provided to establish a long-lasting, high-quality customer relationship:
a personalized appointment portal for principals;
ecological slot scheduling through the calculation of the time slot with the lowest economic and ecological impact;
follow-up notifications by email and SMS;
personalized reports and satisfaction surveys.
TourSolver is an out-of-the-box SaaS application that is easy to use and that adapts to your specific needs. SSO authentication guarantees security and convenience, while a wizard guides the user step-by-step in discovering the tool or new features.
Data import and export may be performed by simple file drag-and-drop or through connectors (Google Suite, MS Office, QuickBook or billing software, etc.).
The TourSolver API makes it possible to integrate circuit optimization into your applications.
Discover TourSolver

in one minute

!
What
our customers

optimizing their logistics have to say about Nomadia solutions.
Choose the version
that suits your needs

.
3 months
12 months
Save up to 17%
TourSolver Essentials
Optimal route planning essentials
Prix mensuel :
€48.00
per user per month*
Prix Annuel :
€40.00
per user per month*
Included in the offer:
Drag-and-drop visitation importation
Route optimization
Traffic consideration
Savings simulator
Execution follow-up
Mobile application
API
TourSolver Premium
The expert solution for optimization at every level
Prix mensuel :
€78.00
per user per month*
Prix Annuel :
€65.00
per user per month*
Essentials features, plus:
Integrated customer repository
Geographical sectorization
Traffic by time slot
Circumvention of zones
Fleet tracking
Follow-up notifications by e-mail and SMS
Personalized satisfaction surveys
Appointment scheduling by end customer
TourSolver API
Route optimization integrated into your application
Prix mensuel :
€30.00
per user per month*
Prix Annuel :
€25.00
per user per month*
Essentials features, plus:
Route optimization
Management of more than 100 parameters
Route plan archival
These rates are provided for information and are non-contractual.
*Contact us for a personalized rate.
TourSolver Essentials
TourSolver Premium
TourSolver API
Optimization

Simulation and anticipation of high-traffic periods

-

Optimization of collection/delivery visits

Consideration of road traffic

Consideration of specific rush hours

-
-

Consideration of weather forecasts

-

Geographical sectorization

-
-

Configuration of fleet vehicle profiles

-
-

Bypassing of non-transit zones

-
-

Travel distance reduction

-
-

Overnight stay management

Topography
-

Use of the mobile application

-

Real-time monitoring of circuit execution

-

Fleet geolocation and tracking

-
-

WebFleet Solutions connector

-
-
Quote available
Quote available
Quote available
Customer communication

Appointment scheduling portal for customers

-
-

Follow-up notifications by e-mail and SMS* (precise time slots, Estimated Time of Arrival, delays, cancellations, etc.)

-
-
-
-
-
-
Ergonomics and interoperability
-
-
-
-
-

Integrated customer repository

-
-

Integrated digital adoption platform

-

Integration of functionalities into the Microsoft 365 suite

Optional
4€/month/vehicle

-
Decision-making assistance

Result optimization analysis

Thematic dashboards and KPIs

-

Performance monitoring dashboards

-
-
Administration

User rights administration

-
-
Integration

Integration of functionalities via API

Result optimization restitution interface

-

Export of mobile application results via API

-
TourSolver is potent route optimization and planning software crafted to enhance your logistics operations. It facilitates the creation of efficient and cost-effective route plans for deliveries, distribution, and collections.
Through route optimization, you can anticipate a substantial boost in productivity, reduced travel distances, and an enhancement in the quality of service provided to your customers.
TourSolver employs AI-powered optimization to generate optimal route plans. It considers over 150 specific parameters, including factors like traffic conditions, weather forecasts, no-transit areas, and vehicle profiles.
This thorough approach ensures that your route is not only realistic and reliable but also tailored to meet your specific needs.
TourSolver is versatile and can be beneficial for various industries, including delivery services, distribution companies, and collection operations.
It is suitable for businesses of all sizes aiming to optimize their logistics processes, reduce costs, and improve customer satisfaction.
TourSolver guarantees a swift ROI by optimizing vehicle fill rates, resource allocation, and digitizing delivery processes.
These improvements lead to increased cost-effectiveness and team productivity.
The exact duration for achieving ROI may vary depending on your specific operational needs and utilization.
Yes, TourSolver provides real-time monitoring of route execution through its multi-platform mobile application.
It also includes features such as agenda management, navigation, report entry, and information sharing with customers.
Customers can rely on accurate schedules, real-time updates, and delivery information at each stage.
TourSolver offers a REST API (Application Programming Interface) that enables the smooth integration of route optimization into your ERP, CRM, TMS, WMS, and other applications.
By configuring webhooks for result retrieval, you can automate processes to meet your specific needs. The integration is quick, easy to implement, and provides a seamless user experience.
Our
news and tips

for logistics.
Request a
personalized demonstration

or a quote.

Want to learn about our prices, receive a personalized demonstration of TourSolver, or request a specific quote? Enter your contact information below, and our experts will get back to you as soon as possible.
Any further
questions

?

You'll find the answers to our customers' most frequently asked questions here.
1er éditeur français de solution SaaS de Smart Mobility, Nomadia accompagne tous les jours plus de 175 000 professionnels sur le terrain. Nos solutions sont simples à utiliser, rapides à déployer et garantissent un retour sur investissement important et immédiat.
Fortes de l'expertise d'un éditeur-intégrateur et d'un cabinet de conseil, les équipes Nomadia vous fournissent un accompagnement sur-mesure, du data conseil au déploiement de terminaux mobiles. Enfin, notre support technique est à votre écoute 24h/24, 7j/7.
Nomadia is the leading French publisher of SaaS Smart Mobility solutions, guiding more than 175,000 professionals in the field every day. Our solutions are easy to use and quick to roll out, and they guarantee a significant, immediate return on investment.
Combining the expertise of a software integrator / editor with that of a consulting firm, Nomadia's teams provide you with customized support, from data consulting to the roll-out of mobile terminals. Moreover, our technical support is available 24 hours a day, seven days a week.
Nomadia solutions guide the digital transformation of all types of mobile professionals: traveling sales representatives, delivery drivers, technicians, auditors, healthcare personnel, diagnosticians, service providers, patrolmen, experts, and more.
From small- and medium-sized companies to large corporations, our solutions can be adapted to companies of any size and in any sector.
Each Nomadia solution consists of a ready-to-use SaaS which includes a back office and a mobile business application specially designed for field operations.
Our APIs and their many connectors allow you to integrate our technologies into third-party applications, whether those are custom solutions or market standards.
Our consultant teams can also help you set up a customized solution that is perfectly adapted to your business processes.
As a company committed to the planet, Nomadia naturally asserts a strong CSR (Corporate Social Responsibility) approach. We integrate social, ecological and economic issues into everything we do.
By optimizing the mobility of mobile professionals, our solutions help improve our customers' productivity, the well-being of their employees, and the impact of their businesses on the environment.
The Nomadia teams are available to answer all your questions: