Nomadia unveils
Nomadia Territory Manager Fall 2023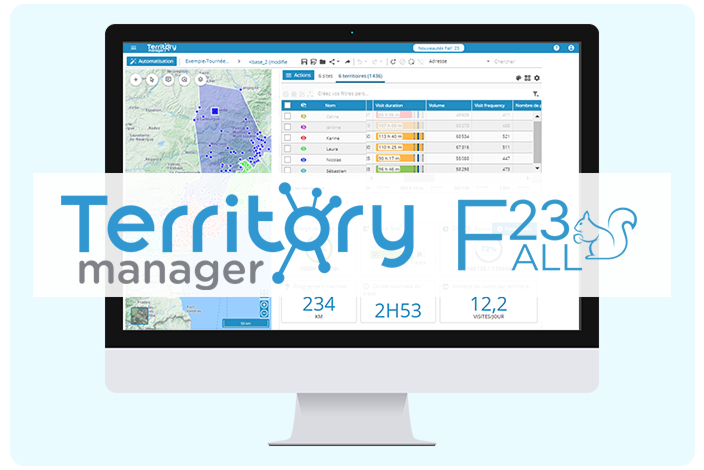 Paris, November 13, 2023 – Nomadia, the European leader in SaaS solutions for mobile professionals, unveils the new version of Nomadia Territory Manager. Designed to assist businesses in the equitable geographic distribution of their activities, teams, and resources, the solution is a strategic tool for management and decision support.
In a context where companies must address multiple challenges, including the race for productivity, competitive pressure, and regulations related to vehicle circulation or sustainability, defining omnichannel strategies that take these issues into account is essential. Nomadia Territory Manager aims to build balanced sectors, composed through three steps:
The representation of the organization, allowing visualization of the geographical distribution of the activity

Understanding the organization, with the identification of imbalances and potential dysfunctions

Optimization of the organization, aiming to automatically balance sectors, workload, quantities to be delivered and kilometers to travel, but also to adapt objectives and anticipate changes.
This Fall 2023 version introduces significant improvements in cartographic representation, territorial analysis, and collaboration. Designed based on user feedback and the latest technological advances, it aims to optimize sectorization and territory management for field-based professional activities (mainly commercial sectors, delivery zones, and intervention areas).
A strategic decision-making tool with enhanced performance
Nomadia Territory Manager Fall 2023 asserts itself as a powerful tool, providing time savings and decision-making support. The comparison mode allows for a precise display of various key performance indicators (KPIs) to assess different organizational scenarios. Users also have access to a variety of visual representation formats such as tables, maps, and graphs to guide them in this process.
To accommodate organizations of all sizes and analytical needs, it is now possible to display on the map a hundred times more points simultaneously and more quickly. Nomadia Territory Manager now allows users to modify the data associated with these points directly from the solution's interface, eliminating the need to reimport files with each change. This functionality represents a significant time-saving for users.
Enhanced Collaborative Work
Users of Nomadia Territory Manager can now share studies across different positions. In the service of better coordination, this essential feature allows different team members to rework and refine studies collaboratively. The comparison mode has been enriched, offering users the ability to visualize changes and variations between two simulations through visual graphs. This is particularly useful for understanding modifications made by a colleague and ensuring the reliability of the final decision-making process.
Equity and Adaptability
In a context where businesses of all sizes must contend with numerous variations in their resources, Nomadia Territory Manager positions itself as a tool for the equitable distribution of work. The solution provides the ability to balance workload and workforce availability. Its advanced features are particularly capable of accommodating specificities such as an 80% position, part-time therapeutic work, or leave. The tool can calculate the actual workload of each sector, offering a precise estimate of the time needed to visit all clients in a given sector and thus enabling the definition of truly balanced and equitable sectors.
Advanced Mapping Features
This new version of the solution introduces advanced cartographic customization options. Users can highlight territories with new color shades, overlay sectors and satellite renderings by customizing the transparency of each information layer, providing an even more precise view of their field activities. Numerous improvements have also been made to the analytical representation of data on the map based on their textual and numerical values. The tool suggests themes and value scales based on imported data, facilitating the interpretation of results.