Nomadia Field Service:
optimized

and

eco-responsible

field interventions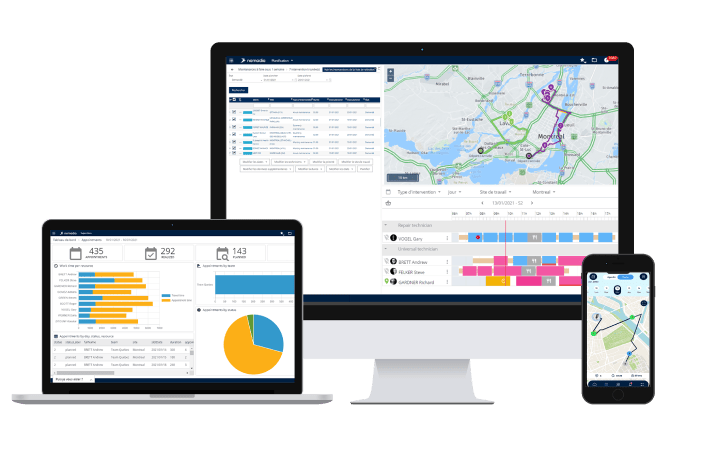 To meet the new profitability constraints and environmental challenges of companies that manage field services, Nomadia has developed a Field Service Management solution that simplifies and optimizes the management of technical interventions, while reducing carbon emissions. 
Paris, May 24, 2023 -Nomadia, France's leading provider of SaaS-based intelligent mobility solutions, unveils its new field service management solution, Nomadia Field Service. Confirming its growth in this ever-expanding market, Nomadia offers mobile technicians and planners an all-in-one solution that optimizes appointment and circuit scheduling, facilitates the execution of interventions, improves customer relations, and guarantees control of the company's carbon footprint.
An innovative and ergonomic application with integrated features
Nomadia Field Service offers an innovative new mobile application that provides an ergonomic and scalable user experience. Dynamic agenda, optimized circuits, detailed intervention sheet, business procedure, geofencing, intelligent appointment booking, document database, etc. It is the most complete mobile intervention management app to help technicians to carry out their tasks efficiently in the field. Built on Flutter technology for flexibility and scalability, the Nomadia Field Service application integrates features that make it easy for professionals in the field to take notes while working. It also benefits from a new integrated technology that allows the technician to perform remote interventions by automatically sending a videoconference link to the customer.
The generalization of intelligent appointment scheduling
The appointment scheduling optimization engine uses artificial intelligence algorithms to predict the duration of the procedure and the number of technicians needed to perform it, based on the complexity of the task and the location. This technology allows companies to better plan their interventions, optimize their resources and provide services more quickly and efficiently, while respecting the constraints of customers, the skills and availability of technicians, and the various standards in force.
Mastering geography is essential for any company that provides field services, and this is especially true for companies that operate in low-emission zones (LEZs) or areas with unique geographic constraints. With Nomadia Field Service, companies can easily integrate these constraints into their planning and optimization processes. The solution takes into account traffic restrictions, travel time and specific geographic areas when planning and optimizing the routes of their field technicians.
A turnkey solution that adapts to the specificities of each business
As companies seek to optimize the time it takes to implement new processes, particularly for the installation of digital tools, Nomadia Field Service, as an SaaS solution, stands out for its speed of deployment. It benefits from essential functionalities with a simplified implementation: the configuration wizard allows an easy onboarding. While it usually takes days or weeks to set up and implement an optimization solution, companies that choose Nomadia Field Service benefit from quick access and easy set-up, allowing them to take advantage of its benefits in record time. Adapted to a wide variety of businesses (energy and health maintenance, audit & control, telecommunications, security, facility management, etc.), Nomadia Field Service has precise functionalities and terminology to adapt to the user's business sectors.
"We are proud to be able to offer a unique solution on the market: the only solution for optimizing field interventions that combines advanced control of business processes with such rapid deployment. The fluidity of its deployment is the result of significant R&D efforts, enabling it to meet the specific needs of a wide range of professions, such as energy maintenance technicians, audit and control specialists, home health care professionals and emergency response teams. Companies can easily manage their response plans and activities, while ensuring that the right resources are available when needed," explains Fabien Breget, CEO of Nomadia.
A successful CSR approach
Nomadia Field Service is underpinned by an advanced CSR approach, taking into account environmental requirements, but also the well-being and safety of workers.
In a context where the climate emergency is prevalent, the reduction of carbon emissions becomes essential for companies. The use of Nomadia Field Service's intelligent scheduling allows for a significant reduction in CO2 emissions, with a 20-30% reduction in the number of kilometers traveled and the associated fuel consumption. In a context where measuring carbon emissions is becoming a widespread regulation, Nomadia Field Service includes a carbon calculation function that allows companies to evaluate the environmental impact of their field operations. This feature provides accurate data on the amount of carbon dioxide emitted by the vehicles and equipment used in the response, as well as the distances traveled and the time spent traveling. This allows companies to gain an overview of their carbon footprint and identify areas for improvement to reduce their environmental impact.
Nomadia Field Service also becomes a Lone Worker Alert Device (LWAD), ensuring the safety of technicians working alone in the field. This feature, which requires no specific device but only an app installed on the worker's phone, uses an algorithm capable of identifying falls and other incidents such as prolonged downtime. In the event of an alert, a team of experts can take control of the phone remotely and call for help if necessary. Coupling an LWAD with functionalities for optimizing the planning and organization of technicians' tasks guarantees worker protection that is not limited to reacting to incidents, but also includes the prevention of dangerous situations by minimizing stress and burnout at the end of the day.
About Nomadia
Nomadia is the leading French SaaS editor of smart mobility solutions tailored to meet the daily needs of mobile professionals: sales representatives, technicians and delivery drivers.
Boosted by strong investment in R&D, the solutions developed by Nomadia cover all the daily needs of mobile professionals: mobile professional applications, circuit optimization, intervention management, intelligent appointment fixing, CRM SFA, sectorization, lone worker protection, etc.
As a company with a purpose, one of the first in the world of smart mobility, Nomadia accompanies its customers in an efficient and measured CSR approach: improvement of productivity, reduction of the carbon footprint, but also the well-being of mobile workers.
Its technological innovation, which integrates aspects including artificial intelligence and the IoT, allows it to be named in Gartner's Magic Quadrant for Field Service Management, the Truffle 100 ranking and the top 100 French editors according to Syntec Numérique.
The company equips 177,000 users and 1,600 customers, and currently has an international presence in 28 countries.  It is based in France (its head office is in Paris), and has branches in China, the USA, India, Italy and Switzerland.
Press contacts: AxiCom France
rpnomadia@axicom.com
Adèle Wydouw –  adele.wydouw@axicom.com
Ayoub Belmahdi – ayoub.belmahdi@axicom.com
Céline Rousseau – celine.rousseau@axicom.com