Logistics strategy in a company: a guide
Having a good logistics strategy is essential in a company. But you have to know where to start to optimize and have the best strategy. Let us review together the very definition of the term logistics strategy before discovering why and how to define it.
Logistics strategy: definition
Logistics consists in managing the physical flows of goods with the aim of conveying them to the end customer. It also of necessity implies good management of the information flows pertaining to these goods.
Logistics is to be found in many sectors, such as the food industry, ready-to-wear apparel, retail, or the luxury sector. By definition, a logistics strategy is going to be deployed using different methods for optimizing these product flows (compliance with deadlines, traceability, cost management, etc.).
Good management of the logistics chain by means of an appropriate strategy is a real growth lever for companies. It has many benefits, as we will see below:
The benefits of a logistics strategy
A company that is required to manage inbound and outbound goods flows needs to deploy an effective strategy to achieve this aim. Optimizing the different processes involved using good logistics management practices affords numerous benefits, namely:
A reduction in stock management costs
The most important challenge in stock management terms is the greatest possible proximity to the company's needs. The aim is to avoid excess stock which would incur unnecessary costs (e.g. greater storage space, more labor and material resources).
Likewise, one needs to ensure that the logistics strategy as implemented avoids stockouts, which would adversely affect customer satisfaction and cause delay throughout the supply chain.
A reduction in the transport budget
Yet another logistics challenge: fleet management, whether the transport movement is by road, sea, or air. By optimizing delivery routes, you reduce the distance travelled while increasing the number of deliveries made, thereby reducing the overall transport-related cost. An appropriate logistics strategy enables you to consolidate deliveries in order to have adequate stocks while reducing the number of journeys and the associated costs (cost of personnel, wear and tear, and maintenance of transport assets, etc.).
If your company is looking for a third-party transport company, the allocated budget can be optimized by taking the time to compare the various offerings within the sector. By finding the appropriate service provider and offering the best possible value for money, you will make precious transport cost savings here as well.
The best delivery tracking
The communication of information is crucial for any activity, and logistics is no exception.
Deploying suitable tools for your company, its size, the sector in which it operates, and the specifics of the goods being transported enables better monitoring of the status of each delivery.
A good logistics strategy gives you real-time visibility of all the information. This flawless traceability helps you to keep your customers informed while complying with planned deadlines and timescales.
Fair route distribution also ensures the optimal coverage of your territory while meticulously tracking each delivery in each sector.
Optimized tracking also enables you quickly to detect a delivery problem and resolve it as quickly as possible. You can notify the customer immediately, which helps to strengthen the bond of trust between you…
Risk prevention
Yet another benefit for your company, reducing logistics-related risks, whatever they may be. Trade is becoming ever more international, increasing the number of supply chain actors and intermediaries. Good logistics management makes it easier to guard against these risks for each link in the chain.
These risks may for example be project management problems, planning mistakes, problems keeping suppliers supplied, or longer delivery timescales.
This risk prevention is closely correlated with the improved tracking previously referred to, because good information communication enables you to anticipate internal and external risks to evade them and cope with them should a problem occur.
How do you define and develop your logistics strategy?
There are numerous tools for defining and improving one's day-to-day logistics management. They are generally divided into three major categories, ERP, WMS and TMS which we will now explore.
Logistics strategy: the tools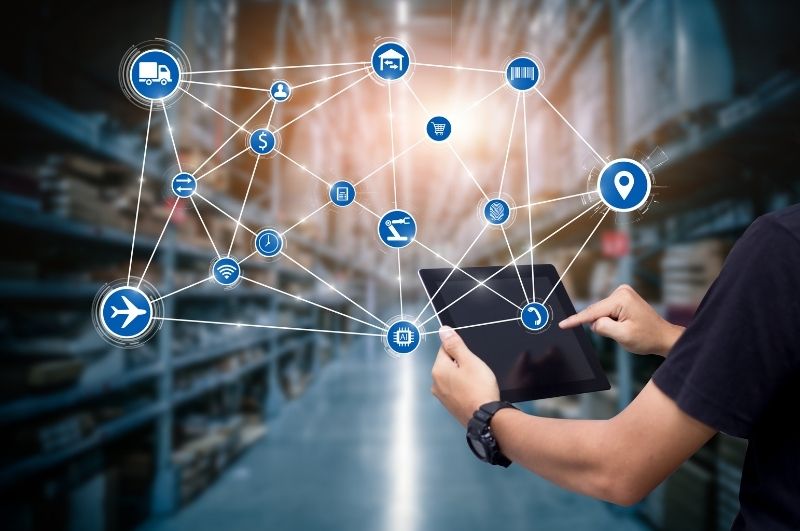 ERPs
ERPs refer to integrated management software products (Enterprise Resource Planning). They are also known as PGIs in French. This type of tool enables you to monitor the entire customer relationship, from order placement to delivery to invoicing.
ERP software can be tailored to manage virtually every aspect of a company's logistics. It is therefore a valuable ally for conducting an effective logistics strategy.
WMS
The Warehouse Management System or WMS focuses on stock management and warehouse organization.
WMS are therefore more specific tools for handling, for example, goods consignment packaging type, stock tracking, warehouse goods-in and goods-out dates, or the location of each product in the warehouse.
TMS and DMS
This type of tool is also specific and less generalist than an ERP. With their acronyms standing for Transport Management System and Delivery Management System, it will be appreciated that the purpose of TMS and DMS products is to concentrate on transport management, as broadly defined, on the one hand, and on delivery on the other hand.
These tools are used especially to manage the fleet, organize truck (or other transport modes) loading and unloading schedules and to optimize last mile delivery routes.
Nomadia provides precisely this type of solution to mobile professionals. Do you want to manage your deliveries and optimize your logistics route plans better? Do you need a bespoke TMS or DMS tool for your business to improve the organization of your schedules? We offer you a suite of solutions tailored to your business sector for deploying a better day-to-day logistics strategy and optimally managing your delivery processes.
I am discovering Nomadia's solutions for my logistics strategy