Last mile logistics: the challenges of optimizing deliveries in a more regulated environment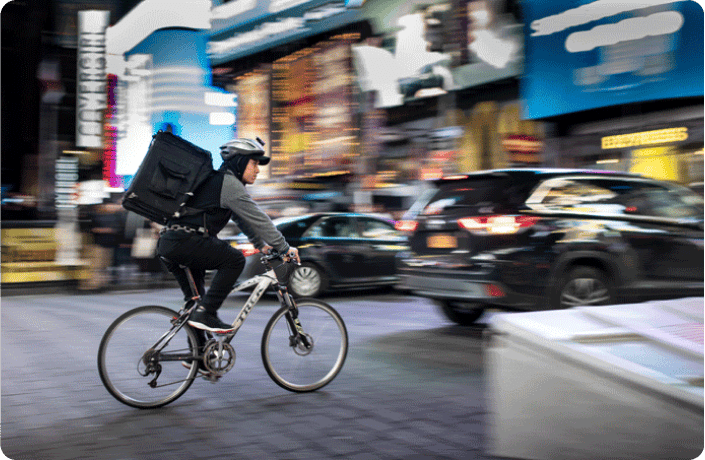 Many local authorities are now putting incentive schemes in place to encourage transport and logistics companies to gear up the way they administer and control goods and merchandise mobility. Growing pressure to comply with the current directives on climate change and environmental protection has given rise to initiatives such as urban logistics charters, metropolitan logistics agreements, low carbon emission zones, and goods movement plans that are all focussed on solving issues around last mile logistics, a complex phenomenon that is rapidly becoming even more problematic for our densely populated city centres.
While local and regional authorities are highly supportive of these initiatives, and visibly committed to devising action plans to deliver on the stated targets, transport professionals are themselves faced with the onerous task of falling in line with a barrage of new constraints, as much with regard to accessing certain specific locations, as to restrictions on delivery time-windows and the types of vehicles authorised, notably in city hyper-centres. The ability to take these new constraints into account when scheduling routes is becoming even more crucial as this area of business develops and changes at breakneck speed, and inevitably this is having a significant impact on the financial models of the transport business, and on any company involved in delivering goods to city centres, and having to cope with the logistics of that last mile to the customer's door. 
A cleaner last mile …
The issue of access to city centres is being regulated by local authorities everywhere and, while these new regulations aim to bring some kind of harmonious resolution to the conflicts of interest that rage in any given metropolitan centre, generally speaking they are ultimately becoming more restrictive. For example, low carbon emission zones, encouraged by the various mobility directives (in France, for example, the LOM or loi d'orientation sur les mobilités) will soon oblige transporters to speed up the renewal of vehicle fleets serving urban centres. Grenoble, for example, is an urban milieu at the forefront of this challenging trend in France, and is making access to the SFE perimeter prohibited for heavy goods vehicles and 'light' diesel users from 2025, and instead, less polluting vehicles such as electric or hydrogen-powered vehicles, will be able to enter city centres along with some 'light' delivery solutions such as delivery bikes and electric cargo bikes. From the summer of 2019, access within the low-carbon emission zone perimeter for Greater Paris (Métropole du Grand Paris) will be denied to heavy goods vehicles manufactured before 2001. Next, it will be diesel vehicles registered between 2001 and 2005 that will be excluded from city centres, and so on until we eventually see the eradication of all thermic engines in 2040.  
… but a more costly one
Most of the major transporters have managed to absorb this constraint into their fleet management policy, and a number of authorities are already supporting local players in the market by sponsoring or assisting with the acquisition of cleaner vehicles, but these regulation changes almost inevitably make the logistics of the last mile a lot more expensive. Over and above the cost of speeding up replacement programmes for vehicle fleets, the new rules mean that transporters have to bear the costs of:
an extra operational load to organise transhipments to urban distribution centres and other public or private logistics infrastructures so cargos can be split up and transferred to transport modes authorised in city centres. Apart from the extra cost of physically dividing up cargos and the logistical headache this brings, using the newly built infrastructures will clearly not come free of charge…
a proliferation of additional resources dedicated to delivering the last mile, in particular, for example, using bikes to transport in city centres, which is now trending, but which obviously is limited by the distances that can be travelled, the weight of the shipment, and the number of delivery points served by each deliverer over the course of one day. Also, while some delivery bicycles will in theory bear loads of up to 300 kilograms, not everything can be delivered on a bike (!) and so recourse to higher capacity modes of transport will always be needed, these themselves being subject to limited access times in the city centre.
This means that transporters are going to have work into schedules for delivery routes:
the conditions for access and opening times of urban distribution points, distribution points or small depots, or other flexible platforms of proximity where merchandise has to be unloaded and split up into consignments for onwards distribution;
specialisation where needed of these infrastructures (alimentary produce vs other types of merchandise);
access times to city centres for different types of vehicles assigned to go the last mile.
To these variables – that inevitably complicate scheduling – we can add the question of resourcing (refuelling and logistical resourcing). France has a very uneven, and inadequate, supply of recharging stations for NGV, electric and hydrogen-powered vehicles. With only 116 NGV recharging or refuelling stations as at the end of 2018, France is way behind in comparison with Italy (1219 stations) and Germany (915 stations). As regards hydrogen powered vehicles, this technology being at an embryonic stage, to say the least, there are only 20 supply points throughout France. The situation is less problematic for light electric vehicles since the recharging points are numerous and rapidly multiplying. However, for HGV that are 100% electric, and the numbers of which are due to increase by 20% between now and 2030, more powerful terminals are needed, and the current number is short by a long way when it comes to covering the whole of the territory.
A transporter seeking to optimize organisation of their routes and maximise the utilisation of their fleet must take into account the autonomy of each and every vehicle, the location of the charging terminals, and for electric vehicles, the length of time needed to recharge.
Demand and service level required are both rising steeply
New local regulations affecting the logistics of the last mile are coming into force in a context where the number of e-commerce home deliveries is rising exponentially and this goes hand in hand with increasing exigencies in terms of delivery times, service quality, and, of course, the price. Edouard Barreiro, the director of public affairs for the UPS Group for Western Europe, rightly reminds us that «with e-commerce, delivery is becoming a commodity. And yet, where you have this new commodity, you also find that delivering the service is less and less advantageous or profitable to the transporter».
By making delivery, that is fast, and free or at a very low price, an argument for winning and keeping consumers, the actors in e-commerce are reflecting on growing pressure on all actors in the logistics chain. The promise of high volume sales in no way compensates for the reduction in margins for transporters, and the less so as the level of demand of end customers increases: not only are businesses committed to delivering within 24 hours (if not only 2!) but also to offering customers delivery timeslots that are ever more precise – at the customer's convenience, and this has to take precedence over any of the transporter's own operational considerations or constraints.
You can understand why 97% of e-commerce professionals declare that the current models of delivering the last mile are not sustainable, and are not applicable everywhere and on a grand scale (Capgemini Institute study published in 2019). And hence the development of solutions such as click-and-collect, delivery to focal points or secure drop-off containers, that are less constraining and less onerous than home deliveries because the transporter can deliver several parcels to the same place, and not just deliver one parcel to the individual concerned.  The interests of transporters coincide here with those of regional authorities who want to limit traffic in densely populated city centres.
Home deliveries of on-line purchases are nonetheless a major business opportunity despite these drawbacks, and so for logistics professionals it is clearly a priority to optimize routes and segment loads more intelligently, while at the same time aiming to fulfil on the question of estimated arrival times (ETA). Only multi-criterion optimization solutions can help them to do this, by processing the multiple constraints that are the new rules of last mile logistics game. It can be done, and those who bite the bullet and go for gold will emerge as leaders in the field, with a sharper edge on service quality in the current battle to weather the storm, and top the competition as regards price and timing.