Daytona
Daytona, an outsourced sales agency remunerated for its field marketing operations, uses several Nomadia solutions to optimize its sales staff's sectors.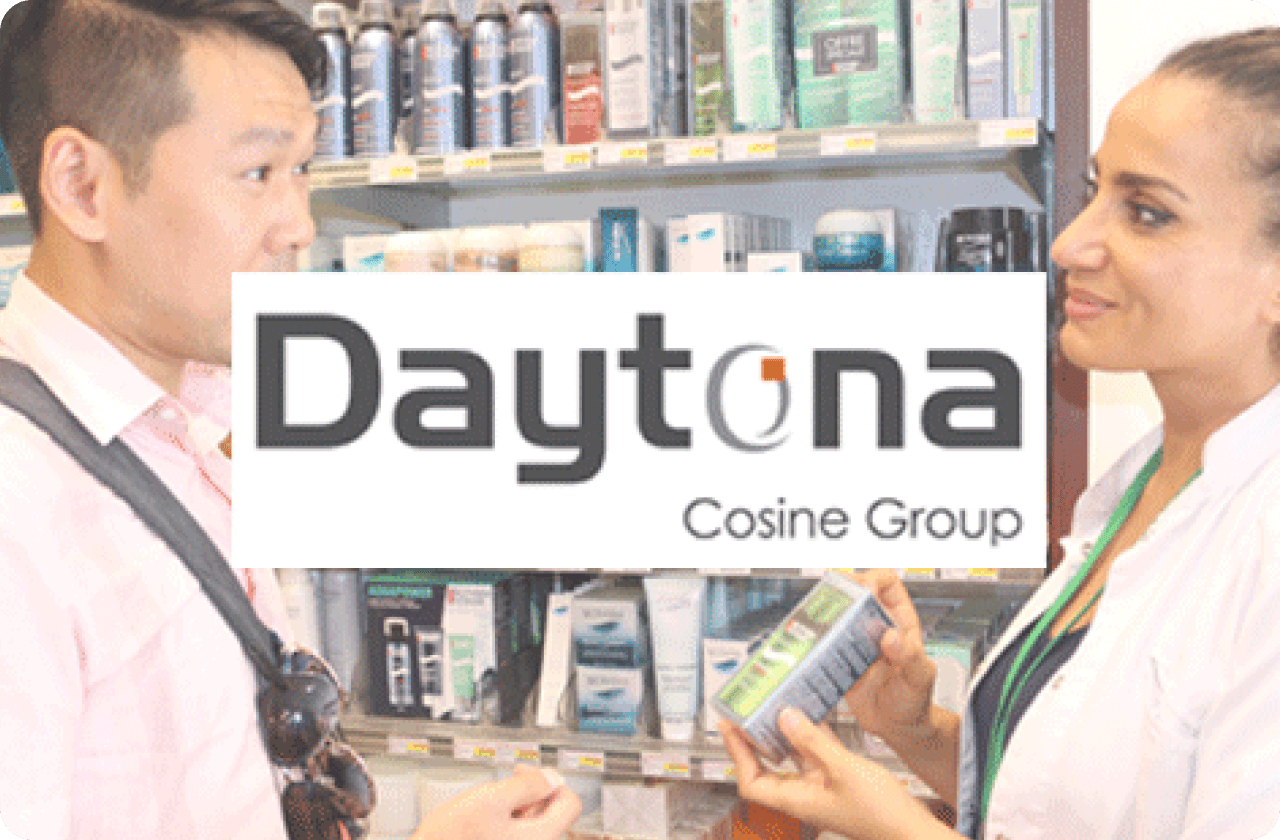 About Daytona
Daytona, an outsourced sales agency remunerated for its field marketing operations, selected GEOCONCEPT to manage and optimize its sales staff sectors.
Key figures
Cosine Group, a subsidiary of Omnicom Group, created in 1993;
an expert in setting up dedicated customer teams, specialists in sales promotion, sales force, promotion and merchandising;
Putting in place and supporting performance management;
more than 200 dedicated client support personnel;
annual "mileage" of 4,412,238 km;
95,300 sales outlet visits annually.
The challenge
Daytona is an international outsourced sales agency with a service offering encompassing sales promotion (staff product training and managing point-of-sale demonstrations), merchandising (space planning analysis, positioning of point-of-sale advertising), sales force (setting up of a supplementary sales force) and business intelligence (generation of reports on sales promotion campaigns and shelf space reports). Its teams primarily operate in the technology, beauty, and health sectors (pharmacies and pharmaceutical laboratories).
Daytona's activities require it to manage and optimize its sales staff sectors, with particular reference to their place of residence, to enable the recruitment service to allocate them as rationally and as close as possible to the sales outlets in question.
Previously, Daytona France used an in-house territory management tool, hosted at the offices of its parent company Cosine in England. Sector definition was therefore entrusted to English colleagues, who were not necessarily aware of project specifics. In this type of exercise, one needs to be able to rely on the expertise of the manager on the ground and familiarity with French geography to construct coherent sectors. Not being in control of the territory management software was a real hindrance and Daytona looked for a local tool for end-to-end project control.
The solution brought by Nomadia
After having benchmarked several geo-marketing solutions, Daytona opted for the Territory Manager solution. The key criteria driving this decision were the price of the solution, the quality of the proposal, the ability to add different modules, and the geographical proximity between the companies.
Featuring powerful optimization algorithms, Territory Manager automatically generates the optimal sectoring solution combining geographical compactness and statistical business data (balanced turnover potential, fair workload, etc.). The extremely intuitive solution can be quickly mastered by all user profiles, with users being guided through each step of the sector definition process. Moreover, the solution's flexibility enables users to adjust sectors manually based on their field knowledge, thereby managing specifics peculiar to an activity or sales outlet. Another considerable advantage for Daytona, the easy incorporation of specific business constraints, such as the number of working days of the sales staff or number of calls possible in a day.
It is the Business Intelligence team, responsible for territory management and optimization, which uses the Nomadia tool on a day-to-day basis, but all the sales divisions can avail themselves of it depending on the project, and the Marketing & Sales director also systematically uses the tool for all sales force invitations to tender.

Time
+60% time spent in pharmacies

Overnight stay
-35% overnight stay expenses

Sales
Time on the road
less time spent on the road
"We are delighted with this collaboration with GEOCONCEPT. Since incorporating the tool it is now easier to define sectors and our project responsiveness has increased. We can also improve the ROI on the assignments we are awarded. This is a real asset for our clients."
Laura Sen, Business Intelligence Manager
Territory Manager enables Daytona to re-evaluate sectors depending on new customer requirements or add additional sectors to extend their reach. To take things a step further, Daytona is considering enhancing its expertise by adding a round optimization module to address a business problem: the difficulty of measuring real gains in terms of kilometers per overnight stay or average number of kilometers, etc.
Integrating optimized round plans would be a real advantage for many projects.
Daytona and Nomadia, a winning combination for round optimization in the pharmaceutical sector
An example of successful implementation by a Daytona customer organization: an organization in the pharmaceutical sector wanted to optimize its territory management to acquire new customers and improve its productivity. The objective within 1 year was to achieve the same results while dropping from 17 salespeople to 13 and cutting pharmacy calls from 1,700 to 1,400 while maintaining an average of 4.3 calls per day. In addition to training, the sales staff were also to offer on-site promotional activities during their calls. The main challenges were to avoid staff turnover, optimize costs and renew customer contracts.
Thanks to Territory Manager, Daytona was able to offer a more concentrated sales territory management. The sales staff were able to perform their rounds in sectors closer to their homes, thus improving working conditions.
This new round organization enabled the sales staff to optimize their movements, thereby spending less time on the road, saving on overnight stays, and seeing their main customers more frequently. Consequently, the organization witnessed a 60% increase in the time spent in pharmacies, a 35% reduction in overnight stay expenses and a 23% increase in sales.
The targeting and territory management features enable Daytona automatically to define the required number of service agents for each campaign and their ideal assigned area.