Nomadia is accelerating in
the Field Service Management (FSM) market

with the acquisition of the software publisher

Synchroteam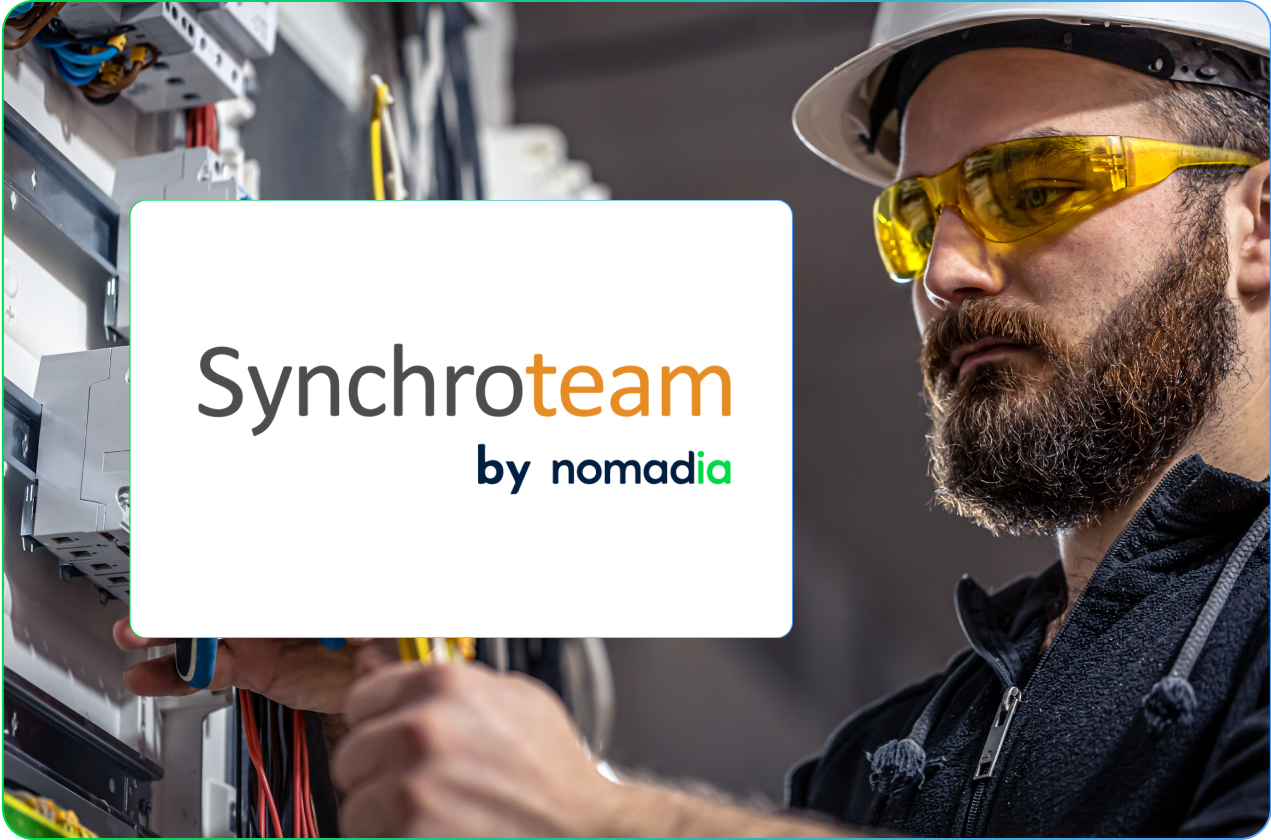 Nomadia is launching "Synchroteam by Nomadia" on a global scale, a new intelligent mobility solution for all small and medium-sized enterprises and large companies that deploy technicians in the field.
Paris, September 5, 2023 – Nomadia, the European leader in SaaS solutions for mobile professionals (salespeople, technicians, couriers), announced today the acquisition of Synchroteam. Synchroteam offers an all-in-one solution that centralizes all the operations of maintenance and service companies into a single CRM tailored for businesses of all sizes and across all sectors (maintenance, inspection, plumbing, electrical, HVAC, and more).
There is a need to optimize field service management
Companies deploying technicians to provide field services face significant challenges in optimizing resources and customer satisfaction. They require Field Service Management (FSM) solutions that streamline the management of these services while considering various business parameters. According to estimates, the FSM market is expected to double in size within the next 5 years, reaching nearly $9 billion.[1]
Operating from Neuilly-sur-Seine (France) and Miami (USA), Synchroteam has been highly successful in this field for over 20 years. Its fully automated SaaS-based solution is used daily by over 1,800 customers in 92 countries to manage technical jobs in real-time, improve back-office coordination, and automate data collection by field technicians.
Synchroteam is particularly recognized in the market for the ease of implementation and use of its solution, which offers various business features to ensure optimal technician productivity in the field, including job scheduling, client CRM, contract management, inventory management, custom job reports, customer invoicing, and more.
Nomadia, in which Hg, the leading private equity firm in the European Tech sector, became the majority shareholder last July, is rapidly expanding its operations. The acquisition of Synchroteam allows Nomadia to enhance the functional coverage of its FSM offering and enter a new market segment by catering to small businesses while also strengthening its international presence.
A comprehensive and flexible FSM (Field Service Management) solution.
With "Synchroteam by Nomadia," Nomadia now offers a truly holistic FSM (Field Service Management) solution, enriched with new business features, extended integration capabilities, and numerous customization options to adapt to all configurations and industries.
This new Nomadia offering is decidedly flexible, featuring very short deployment timelines and is available both on the web and mobile platforms.
According to Fabien Bréget, CEO of Nomadia: "Smarter and more responsible mobility should be accessible to everyone. The acquisition of Synchroteam underscores our ambition to assist all businesses deploying technicians in the field, regardless of their size or industry, in optimizing resource management and movements, thereby meeting their productivity and environmental footprint reduction goals. We are delighted to integrate the expertise and teams of Synchroteam into this initiative, and the company's leadership will remain part of the company's governance."
International expansion is at the core of Nomadia's ambitions
In 2022, Nomadia had already expanded its international presence by establishing a network of reseller partners in Latin America and setting up its Italian subsidiary in Milan. The acquisition of Synchroteam, which offers solutions in 92 countries and supports 22 languages, represents a significant milestone in Nomadia's international development.
Do you want to learn more about Synchroteam solutions?
[1] https://www.mordorintelligence.com/industry-reports/field-service-management-market