[Inside Nomadia]

– Meeting the highly specific

needs

of

FMCG sales forces

in retail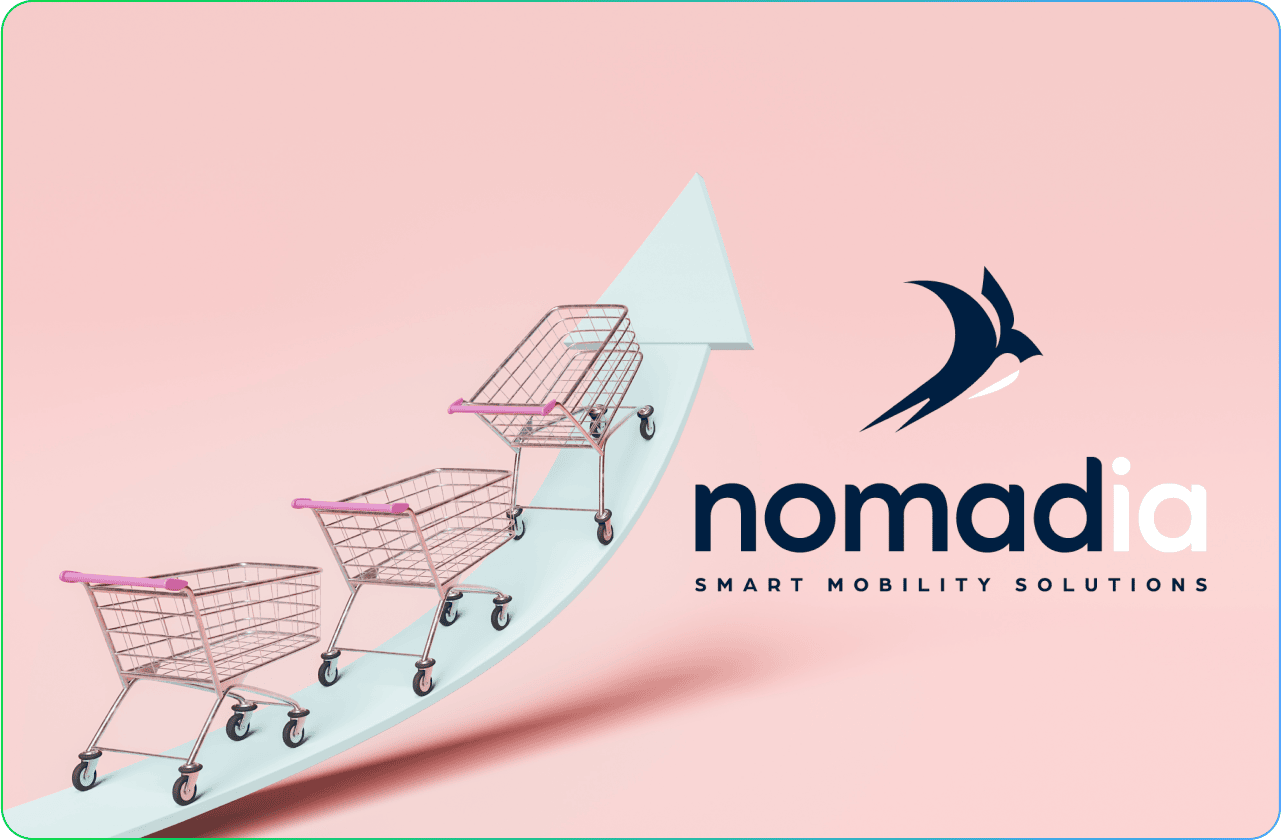 Patrick Tellouck leads the Nomadia team that supports consumer goods manufacturers in their commercial strategy and optimizing their sales forces. Let's explore the challenges in this sector, recent developments, and the solutions provided by Nomadia.
Where does Nomadia's expertise in the retail industry come from and what does it encompass?
Nomadia's expertise stems from the 30 years of experience developed by the company B&B Market before its integration into the Nomadia group in 2021. It translates into a range of consulting services and software solutions allowing fast mooving consumer goods (FMCG) manufacturers to optimize the organization and operations of their sales force on the ground within retail networks and specialist networks like bars, hotels, restaurants, pharmacies, the beauty sector, DIY, and organic products.
The dynamics of FMCG and hypermarkets are intertwined. Our in-depth understanding of retail mechanisms and its evolutions enables us to assist FMCG industrialists (food, hygiene-beauty, cleaning products, etc.) in defining and executing their commercial strategy.
We intervene upstream to help National Sales Directors (NSD) structure their teams and implement optimal sectorization based on their strategic goals and the potential of stores under different brands for their product(s). Downstream, for effective on-ground execution, an increasing number of our industrial clients opt for our solution, Nomadia Sales (formerly Solvnet), a CRM specifically designed for FMCG sales forces, encompassing all aspects of a territory manager's role.
How did the need for a CRM dedicated to FMCG territory managers emerge?
Nomadia Sales is a pragmatic and comprehensive response to the evolving role of territory managers. Over the past decades, a territory manager's daily tasks have become increasingly complex, involving heavier administrative burdens and the analysis of growing amounts of data. The profession demanded digitalization, allowing managers to spend maximum time where they add the most value: in-store, interacting with section managers to defend their shelf space, present innovations, and negotiate promotions.
With Nomadia Sales, territory managers can fulfill all their tasks in a single software: it houses their daily agenda, KPIs, and sector analyses, allowing them to decide which stores to visit and how to organize their route. It includes their sales pitch, tools for placing orders directly from the store, conducting shelf surveys via video, and creating visit reports in moments after each meeting. Digitalization streamlines and simplifies processes, enabling more value-added visits per day while covering fewer kilometers due to optimized route planning. Only a software encompassing these processes, business logic, and hypermarkets peculiarities in different countries empowers today's territory managers to achieve their goals without spending evenings and weekends preparing visits, analyzing, and writing reports. This is what sets Nomadia Sales apart from general CRM/SFA tools.
You mentioned the peculiarities of hypermarkets and supermarkets in different countries. Can you provide examples?
Taking the French market, it holds two particularities compared to most European countries. The first is the prominence of independent and franchised stores in chains like Super U, Leclerc, Intermarché, and increasingly Carrefour, where two-thirds of supermarkets and one-third of hypermarkets are now franchised. Unlike integrated networks like Auchan or Casino group stores, these independents have significant leeway in choosing their assortments, adopting a more local approach centered on local demand characteristics. To ensure strong product presence and visibility in these stores, territory managers must frequently visit them, building trust with each store owner and section managers.
The second specificity concerns commercial negotiations between manufacturers and retail. In France, they are annual, traditionally taking place between December 1st and March 1st, unlike other countries where negotiations happen more frequently or even continuously. This allows for price adjustments throughout the year in line with production cost changes. In the current inflationary context, French retailers have requested and received advancement in negotiations, closing them by December 31, 2023, enabling faster adjustment of in-store prices based on recent decreases in raw material and packaging costs for manufacturers.
International companies we work with choose our sales force CRM because it accommodates such specificities, directly influencing how to manage operations and organize fieldwork in each country. This allows for a unified CRM across all countries while adapting strategies accordingly.
Staying within the French market, what notable recent evolutions in hypermarkets and supermarkets have emerged, and how do they impact sales forces?
July 2023 witnessed Carrefour's acquisition of 60 Cora hypermarkets and 115 Match supermarkets, well-established in the north and east of France. Nationally, this means having two major players, Carrefour and Leclerc, representing almost 45% of the market together. Alongside this consolidation step, there's ongoing news within the Casino group, being acquired by billionaire D. Kretinsky and partners Fimalac and Attestor. Pending the finalization of this acquisition and confirmation of investments that underpin Casino's revival, the sale of 61 stores to Intermarché was formalized in early October. The ongoing sale to Intermarché, which will continue in 2024, significantly changes visit plans, as there will be more actions in an Intermarché than in an integrated Casino or Géant store. Market understanding requires continuously adapting sectorization to remain optimal and deliver maximum value. Furthermore, Lidl's progress with its "soft discount" strategy and Aldi's efforts in "hard discount" continues with store network densification, recording good results due to inflation. This has no impact on FMCG sales forces as they do not visit these stores where everything is negotiated and controlled at the headquarters. However, an increasing number of companies are incorporating drive-throughs (especially Leclerc) into their territory managers' portfolios.
What is the overall dynamic of brands and how is the in-store offering evolving?
One of the highlights of the last decade is the proliferation and rise of SMEs and "small brands" in retail. They make strides through innovative products and/or distinctive positioning (local, ethical, eco-friendly, etc.) that resonate positively with consumers. Think about the Beer section where artisanal and local beers are gaining popularity and establishing themselves on shelves alongside industry giants. For instance, the Britt brewery, with whom we collaborate, has gained a share of the beer market in Brittany against global beer giants. These SMEs must have a very strategic approach to the market due to their generally smaller sales force. We are fortunate to assist them and help them focus on the most profitable points of sale for them. This involves territorial planning, in-depth socio-demographic studies of catchment areas, and developing action plans specifying visit frequencies in each target store.
Persistent inflation changes the game for both SMEs and large corporations. What we've observed in stores over the last 18 months is the significant progression of Private Label Brands (PLBs). Consumers are shifting from national brands to PLBs for affordability reasons. As the demand moves in this direction, retailers are allocating more shelf space to PLBs, intensifying the battle between national brands to maintain a significant presence. For this, the frequency and relevance of visits by territory managers are crucial, as well as the assistance they can provide to the retailer in execution tasks.
Has the sales promoter role become widespread? What tools does Nomadia offer them?
The teamwork between TM (Territory Manager) and MA (Merchandising Agent) is a trend that is growing and indeed tending to become widespread in major corporations. The MA typically handles all execution tasks, involving product handling for setting up promotions, stocking shelves, and end cap displays. As they visit the stockroom, they are extremely well-positioned to detect and prevent stockouts, knowing that a stockout represents a loss of 5% to 6% in revenue. In a market where sales volumes are declining, this can quickly become catastrophic. Nomadia Sales is designed to be used by both territory managers and sales promoters. Working within the same tool facilitates coordination between the TM and their MA, information transmission, and sharing. The MA knows precisely what to do in each store based on what has been negotiated by their TM and can account for their actions and report any potential problems without resorting to external tools.
It's important to understand that Nomadia Sales is designed to meet the needs of all stakeholders: TMs and MAs, but also NSDs (National Sales Directors) and Regional Sales Managers (RSMs) who require visibility into numbers and on-ground realities to propose realistic approaches and objectives.
What recommendation would you make to an NSD looking to improve their sales force's performance?
I would advise them to begin with a serious focus on territory management to build on solid foundations. Both large corporations and SMEs still tend to neglect re-evaluating their territory management regularly to improve it. Over time, territorial organization loses its relevance. Changes in strategic priorities, the integration of new product ranges/brands, and the evolution of staff and store portfolios result in imbalances among the territories assigned to each TM. These imbalances—whether in the number of stores, sales potential, or geographical dispersion—are a major source of dissatisfaction among sales teams and an obstacle to meeting objectives. Defining balanced sales sectors and equitable portfolios is a prerequisite that allows teams to fully leverage the tools we offer to optimize their work organization— from visit preparation to execution— giving full importance to the quality of relationships with their counterparts in each point of sale, all while never losing sight of their goals. With current tools and our understanding of TM business imperatives and retail developments, we provide industrial clients with a dynamic approach to territory management that ensures optimal alignment between the sales force, company objectives, and current realities at all times. It's an understatement to say it's an asset in the current context!