Distribution and Consumer Goods
E-commerce

- is the party over?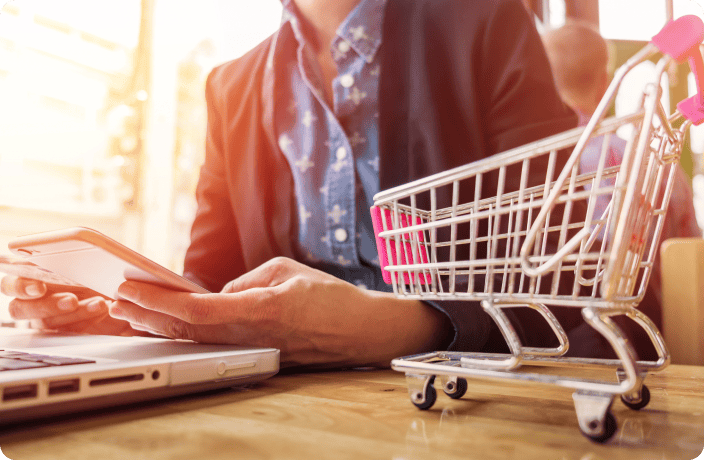 After two decades of continuous double-digit growth, e-commerce for physical products appears to have stalled in 2022. Between logistical challenges, general cost increases, declining purchasing power and rising environmental concerns of consumers, what can we expect in 2023?
It's hard to talk about a collapse when we see that overall e-commerce sales grew by 11.8% in the first quarter of 2022, 10% in the second and 16.8% in the third (source Fevad). But if e-commerce has remained in growth in 2022, it is mainly thanks to the rebound of service sales, as online sales of physical products have indeed declined by 15% in the first half of the year compared to the first half of 2021. It is this decline, described as "dizzying", which has led to an avalanche of articles on the "collapse" of e-commerce. We have to put it into perspective! On the one hand, the decline has seriously slowed down in the third quarter (- 2% vs. Q3 2021); on the other hand, and although the figures for the fourth quarter are not yet published, most analysts see 2022 as a return to "normal" growth after two years of health crisis where online sales of physical products had increased by 42%. The question is whether this return to normalcy will continue in 2023, in an economic and social context that does not really encourage optimism.
Inflation impacts consumption
While the inflation rate is more moderate in France than in most EU countries (5.2% vs. 11.1% in 2022), households have seen some constrained expenditure items rise sharply, in particular: energy (+15.1% in one year), food (+12.1%) and transportation (+8.6%) [source Insee, Consumer Price Index, 01/13/2023]. Since wages are not rising as fast as prices, French households, especially the poorest, are logically seeing their purchasing power decline, which leads to two types of behavior:
>> the search for less expensive substitutes. This is evidenced by the increased use of distributor own brands and "value-price" products for food and non-food products, as well as the renewed use of hard discount stores or those perceived as such. As a result, the three brands that have gained the most market share in France in 2022 are Aldi, Lidl and Leclerc. We can add Action, which, with more than 700 stores to date, has become an essential part of the world of consumers looking for good deals and little pleasures at low prices.
>> the renunciation of "less essential" purchases that households decide to do without in the short term or that they can postpone without great harm. This concerns, first of all, leisure and clothing, as well as organic food products whose sales have declined in 2021 (- 1%) and 2022 (- 5%) after years of double-digit growth.
These behaviors are likely to continue as the French enter 2023 with low morale. Since September 2022, the consumer confidence synthetic indicator calculated each month by INSEE is even lower than it was at the heart of the 2008 crisis. Between fears that inflation will worsen, uncertainties about the evolution of energy prices (fuel and heating), rising interest rates reducing access to credit and the forced passage of a pension reform that was massively rejected, the relief that the end of the crisis brought is now a distant memory. The restraint shown by the French at the end of the year is proof of this: in terms of "festive" food purchases, sales are down by 10% compared to 2021 in the mass distribution channels, auguring a difficult year in 2023 which will probably not spare e-commerce.
Drive-through shopping is at a crossroads
In this gloomy context, the food e-commerce is resisting as best it can. Those who discovered it via drive-through shopping (90% of food/FMCG e-commerce) in 2020, during the first lockdown, are numerous to have remained customers, bringing to 11% the share of e-commerce in total food and FMCG purchases. But after euphoric growth of 47% in 2020, then 6% in 2021, drive-through shopping joined the general downward trend with a probable decline in sales of 2% in 2022. Olivier Dauvers explains this decline by the renewed attractiveness of hypermarkets for consumers looking for a maximum of promotions, knowing that "the rate of replication of promotions in the drive-through channel is still only 31% on average".
If traditional drive-through shopping is slowing down, will home shopping delivery take over? That is what Carrefour is betting on. The company wants to triple its e-commerce business volume by 2026, notably by focusing on "new formats" such as express delivery (within less than 3 hours) and quick commerce (less than 15 minutes). It is also planning to redefine its product ranges, giving pride of place to own-brand and value-price products, both in stores and online. Interestingly, as part of this decidedly omnichannel strategy, food and non-food assortments will be refocused on the key needs of each store's customers and the characteristics of the catchment area, using a data-driven socio-spatial approach.
Home delivery tested by real prices
But for Carrefour, as for all the players in this market, the development of home delivery depends on the ability to minimize the price of delivery for the consumer. It will be difficult. We already know that, as of March, distributors will have to pass on the price increases negotiated by manufacturers. As all of their expense items have increased, the initial requested increases were as high as 40% in some categories. If retailers want to contain prices on the shelves and online to send a good price signal, it is difficult to see how they can continue to offer discounted or even free deliveries.
However, the price of delivery is a decisive criterion for the consumer in all e-commerce segments. It is by playing the card of free or almost free deliveries that the pure-players have succeeded in imposing themselves and gaining market share. Everyone else has fallen in line with this model, making free AND ever-faster delivery the norm in the eyes of the consumer. In addition, free product returns have removed the last remaining obstacles, particularly in the clothing segment. 2022 marks the end of the game:
in September 2022, Amazon increased the price of its annual Prime membership by 40%. Most customers who sign up for this service do so to receive free 24-hour delivery and free returns, all with no limits. At 69.9 euros instead of 49.9, this privilege remains accessible to the vast majority of subscribers. However, the increase does not come close to covering the costs incurred by Amazon to provide the quality of service that has made it famous and successful. But times are tough for everyone and, for the first time in its history, Amazon has announced a wave of 18,000 layoffs that will also affect Europe. This is less than it sounds for a group that currently employs 1.54 million people, half of whom were recruited between 2020 and 2022 to meet the explosion in demand caused by the pandemic. This downsizing is a clear indication that the company is anticipating a difficult 2023.
major brands such as Zara, H&M and Uniqlo have ended free returns. They will be followed by many more in 2023. The contribution requested from the customer does not always cover the real cost of transport and management of the returned items (more than 10 euros), but limits the breakage in a sector where up to one out of three products purchased online is returned.
What has long been a major lever of conquest for e-commerce players can no longer be so: transport and logistics are becoming increasingly expensive and can no longer be handled by the merchants alone. In the face of this reality, two trends that have been largely initiated in recent years should be reinforced in 2023:
strongly differentiated prices according to the transport deadline and, if necessary, the moment of delivery desired by the customer, which allows e-merchants to optimize the planning of their shipments and minimize the cost of the rounds thanks to a better filling of the vehicles;
the promotion of click & collect and especially of delivery to relay points. Both options have the advantage of concentrating deliveries on a smaller number of points, avoiding home delivery failures due to customer absence, while offering a great deal of flexibility to customers thanks to the densification of the network of collection points and the often very extended opening hours.
Second-hand comes to the rescue of growth
The purchase of second-hand products took its place on the web very early on, with emblematic platforms such as eBay and sites of sale between individuals such as leboncoin. The second-hand market is attracting a growing number of consumers who are as concerned about preserving their purchasing power as they are about acting in an environmentally responsible manner. In the top 20 most visited e-commerce sites in France, leboncoin appears in 2nd position with 27 million unique visitors per month, and Vinted in 4th position with 16 million visitors (Fevad ranking, 3rd quarter 2022). The paradox is that SHEIN — champion of "ultra-fast fashion" with a catastrophic ecological balance – also appears in this ranking (in 16th position, with 9 million monthly visitors)..
In any case, the second-hand market is becoming more structured and, while it is huge for fashion, it covers all imaginable categories of products, including luxury. New French players are in the process of making a place for themselves in this market (such as Omaj in clothing or Back Market in reconditioned electronics) and all the major marketplaces now have a "second-hand" section. Luxury brands are not escaping the trend and are seeking to regain control over the second-hand sale of their own products rather than leaving them in the hands of more or less organized speculators.
Estimated at 7 billion euros in France in 2022, the e-commerce of second-hand goods has a bright future. In the next two years, it should be an important growth driver for brands and retailers that will be able to impose themselves as a trusted third party between sellers and buyers. In the reintermediation movement that the second-hand market is currently experiencing, the role of e-commerce sites will be more than ever to guarantee the quality/authenticity of products, the security of payments and the safe arrival of orders. What is certain is that – second-hand or not, delivery at home, in store or to a relay point – logistical excellence will continue to make the difference, between players and for customers.