Are your company's
lone workers

well protected?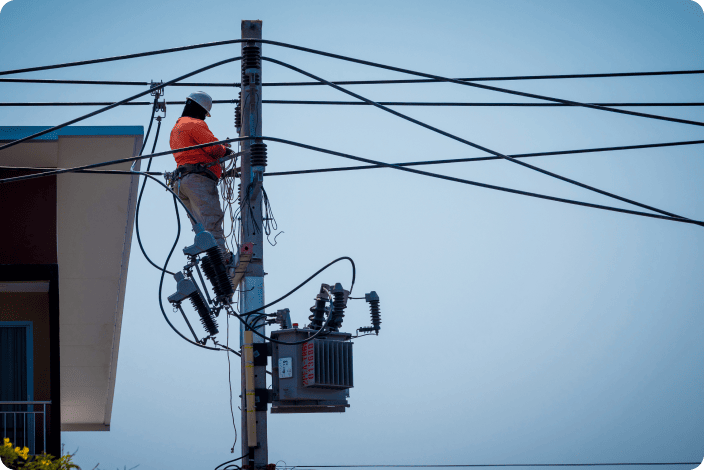 Both on the road and in the field, mobile professionals can find themselves isolated in potentially dangerous situations. How can their safety always be ensured, and appropriate assistance be rendered as quickly as possible?
Lone working is defined as "the performance of a task by someone who is alone, in a working environment in which he or she cannot be seen or heard directly by others and in which there is a low probability of being visited" (INRS – National Institute for Research and Safety). For the National Health Insurance Fund for Employees (CNAMTS), "a worker is deemed to be a lone worker when working alone, out of earshot or sight by any assistance, in a situation that may prove dangerous" (CNAMTS – Recommendation R416).
The risks faced by the lone mobile worker
There is no statutory definition of lone working. But, given the aforementioned texts, we can take it that all mobile professionals are likely to be occasionally faced with situations in which the fact of being on their own poses an additional risk for their physical safety and integrity. Whereas the labor code expressly prohibits certain activities from being performed by lone workers*, many situations in which mobile workers may find themselves – during their travels or their callouts – are not covered by any specific text. For example, there is:
The salesperson
who, between calls, loses control of his vehicle on an icy, little frequented road
The technician
who, to avoid postponing a call, injures himself by installing or removing equipment that is too heavy to be handled by a single person

The maintenance operative
exposed to leakage of a toxic product in the basement without the required personal protective equipment

The delivery worker
physically assaulted by an angry customer or bitten by an aggressive dog while leaving a parcel when the owner is out
The truck driver
attacked on a deserted road by freight thieves lying in ambush, which is unfortunately not the stuff of legend…
All these scenarios come under the employer's general safety obligation, especially article R4543-20 of the labor code, stipulating that "a lone worker must be able to report any situation of distress and receive assistance as quickly as possible" whether or not there is any negligence on his part. As the guarantor of your employees' workplace safety, it is incumbent on you, the employer, 1/ to prevent situations in which isolation is an aggravating factor and 2/ to provide your mobile co-workers with the material and organizational wherewithal to:
Raise the alarm
in the event of danger, accident, feeling indisposed, a fall, poisoning, assault, etc

Be located accurately
even if they are physically unable to speak

Be rescued
and receive the appropriate care as quickly as possible
Enhanced safety while travelling thanks to vehicle geolocation
Given the risks inherent in road traffic, the first technology to mention is vehicle geolocation. An on-board geolocation system (in company vehicles, service and delivery vehicles) enables the company to know in real time exactly where a vehicle at all times while in use and to detect any anomalies in the fulfilment of the route. For example, if the person responsible for coordinating emergency calls sees that vehicle A is stationary when it should be en route to the next customer or have already arrived, he can contact the driver on his mobile to check that he is not in difficulty or in danger. Should there be no answer, he will evaluate the risk and initiate the appropriate procedure. With the exact geographical coordinates of the location where the vehicle is stranded, he can either notify them to the rescue services or ask the driver of the nearest vehicle to this location to go there to ascertain the situation.
Equipping your company's vehicles with a geolocation unit also makes it easier to find them again should they be stolen. Which is why fleet managers tend to fit this equipment across the board. It is also recommended or even required by some insurance companies.
Individual protection by means of a "DATI" (lone worker alarm)
But the ability to track and locate their vehicle isn't enough to ensure your mobile co-workers' physical safety! It is simply prudent for them to be individually equipped with a lone worker alarm (DATI). The DATI may be a stand-alone portable system or, and this is far more practical, an application installed on the operative's smart phone.
In both cases, the DATI is there to trigger and transmit an alarm in situations deemed to be critical by or for the lone worker. This alarm can be triggered manually if the person is conscious and able to move. It can also be triggered automatically if the system detects a loss of verticality (indicating a fall), no movement for a prolonged period or, if the system is equipped with the appropriate sensors, the presence of certain dangerous substances in the environment.
The alarm message typically contains information on the relevant worker's location (GPS coordinates), his identity, and the nature of the alarm (manual or automatic). It is sent to an individual or organization responsible for initiating the appropriate assistance, after having made sure it is not a false alarm caused by a handling error or malfunction.
It goes without saying that providing your co-workers with a DATI unit or application only makes sense if you set up the necessary organization for receiving alarms, dispelling any doubts and, of course, triggering assistance measures. This organization must be able to respond to alarms and handle them appropriately whenever you have co-workers on the road or on a call. In certain business areas that means a requirement to be operational around the clock.
The priority: preventing and limiting the exposure to risk
These technical devices – DATI and on-board geolocation – will achieve their intended purpose all the better if you take care to identify the risks associated with your co-workers' tasks and avoid having them intervene in situations or circumstances that are potentially dangerous for a lone worker. Apart from providing the relevant employees with the proper information, prevention particularly depends on:
calls that are properly assessed in advance to ascertain whether they can be safely performed by a single individual;
assignments tailored to each operative's skills and level of experience;
routes that are optimized in terms of the number of calls and distance to be travelled, overloaded schedules significantly increasing the risks of inattention and reduced vigilance.
Nomadia's planning and optimization solutions take account of these parameters to enable your mobile co-workers to work in the most efficient and safest conditions on an everyday basis. Moreover, thanks to the recent acquisition of Neosafe, the human safety and lone worker protection specialist, Nomadia now offers your mobile co-workers a sophisticated DATI application that enhances their protection in unpredictable risk and situations.
> Find out more about our lone worker protection solutions
* Lone workers are especially prohibited from the following: working at height, maneuvering trucks and machinery, electrical work carried out with power both on and off, work involving a risk of falling into water, work on lifts, work in shafts or tunnels.