LiPU
LIPU uses our solutions to optimize the travels of its 250,000 daily passengers within the scope of its activities in school transportation, employee commuting, and special transports.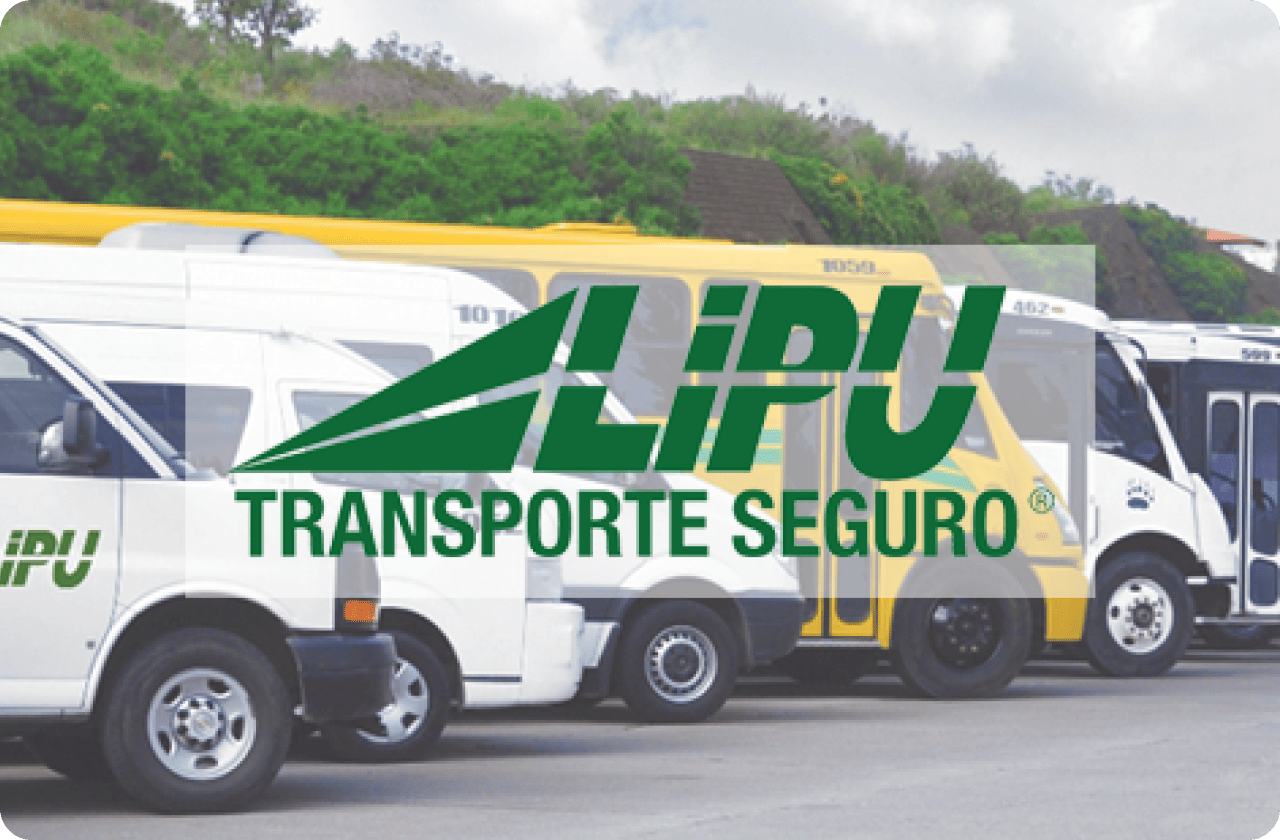 Presentation
Belonging to the Traxión group, a leading figure in the transport and logistics market in Mexico, LiPU specializes in passenger transport (school, corporate, and tourism transportation). The company operates a fleet of 800 buses and minibusses, transporting thousands of students, employees, and tourists across the country daily.
Key Figures
Established in 1997 in Mexico.
A member of the Traxión group since 2016, the foremost transport and logistics company in Mexico.
Present in 14 Mexican cities.
2,300 employees.
Over 800 vehicles.
Conducts more than 7,000 daily trips.
Transports 250,000 people every day.
The Challenge
Seeking an external provider to optimize its route planning stemmed from three main issues:
Expansion of commercial activities.
Reduction of operational costs.
Streamlining the fleet by freeing up vehicles for new clients without additional bus purchases.
Before the project launch, LiPU's teams required two weeks to devise route proposals using Google Maps for its clients. However, these tools had limitations in functionalities. To efficiently respond to client demands and secure new contracts, LiPU needed to accelerate this process using a tool capable of performing multiple reliable and rapid route simulations. These simulations assist clients in validating the most relevant routes and should be easily adjustable in case of parameter changes, such as adding new pickup points or altering schedules.
« The transportation of corporate personnel is a key factor in recruiting skilled employees in Mexico. It's even a fundamental service in rural areas where public transport networks are not dense or secure. There is, therefore, a strong demand for personnel transport. Determining a pickup point can also be complex when considering picking up new employees within a 10-minute walking distance to a pickup point.»
Raul Quintero, Logistics Manager
To effectively address this high demand and ensure efficiency across other market segments, LiPU needed to streamline its bus and minibus fleet. This was particularly challenging due to the scarcity of these vehicles in Mexico: specialized manufacturers are scarce, and the average wait time to acquire a vehicle is 12 to 18 months. Reacting promptly under such circumstances was difficult. Hence, the sought optimization solution needed to consider vehicle rotations, enabling vehicles to be assigned to multiple missions in a day, ensuring optimal use of the existing logistical fleet.
Nomadia's Solution
The Appropriate Response: TourSolver and Territory Manager
Opti-Mobility, Nomadia's partner in Mexico since 2006, efficiently convinced LiPU of the relevance of a combined offering involving two Nomadia solutions: TourSolver, an optimization solution for routes, and Territory Manager, a sectorization software. Demonstrated benefits achieved by other market players (an average 30% reduction in operational costs – fuel, insurance, carbon footprint), the usability of the solutions, and their performance were decisive factors in LiPU's choice.
The passenger transport specialist now relies on TourSolver to easily design and execute optimal route plans. With its powerful optimization algorithms, intuitive interface, and consideration for LiPU's specific constraints, the solution enhances operational performance. Additionally, Territory Manager allows LiPU to conduct in-depth studies, aiding in identifying meeting points, refining sectorization, and allocating vehicles to sectors.
The project implementation was swift due to the intuitiveness of the solutions and personalized support. After several months of use and the addition of new licenses, deeper integration into the information system is expected to optimize the entire setup. Thanks to Opti-Mobility, the project facilitator, LiPU now benefits from tailored support, including high-performance technological solutions, personalized training services, and dedicated support.
Distance traveled
20% fewer kilometers traveled.

Time
-25% less time spent on the road
Work
Improved working conditions
"The NOMADIA solutions have clearly contributed to accelerating the digital transformation of the Traxión group, strengthening its position as a leader in a highly competitive market."
Accelerated digital transformation across the group
The benefits of deploying Nomadia solutions for LiPU are quite tangible: it now takes only a few minutes to simulate a complex route with TourSolver, compared to several days or weeks previously. These new capabilities allow LiPU to now compete for major bids and work on large-scale programs. For instance, LiPU used TourSolver in a project to reorganize school transportation services across a Mexican state. In total, more than 145,640 students from 493 schools were accounted for. Over 4,000 optimized routes were calculated in just two weeks.
If a client wants to modify one or more parameters in a route, LiPU can instantly recalculate a new route. This high level of responsiveness is crucial. Due to the COVID-19 pandemic, many clients had to make frequent changes to routes to adapt to the sanitary rules implemented by the Mexican government (avoidance zones, remote-working staff, etc.). The ability to easily replan routes was crucial in this fluctuating context.
Beyond the performance in terms of route calculation and recalculation speed, Nomadia solutions optimize LiPU's entire logistical fleet. Vehicle rotation across multiple missions helps minimize empty trips, a recurring issue in logistics. Ultimately, LiPU has been able to reduce the overall distance traveled by over 20% across all its routes. Sectorization also considers the driver's starting point, reducing their travel time by more than 25% to the first stop on their route. Bus drivers spend less time on the road, leading to improved working comfort.
And now, these benefits apply across the group. Three other subsidiaries of the Traxión group now use Nomadia solutions: UTEP (school and freight transportation), SETTEPI (rural school transportation), and MESA (messaging services).