Nomadia Territory Manager

, the solution to optimize your sales sectors.

Distribute your business and assign work to your teams consistently across your sales territory. Easy to use and quick to learn, Nomadia Territory Manager optimizes your business strategies and improves your performance.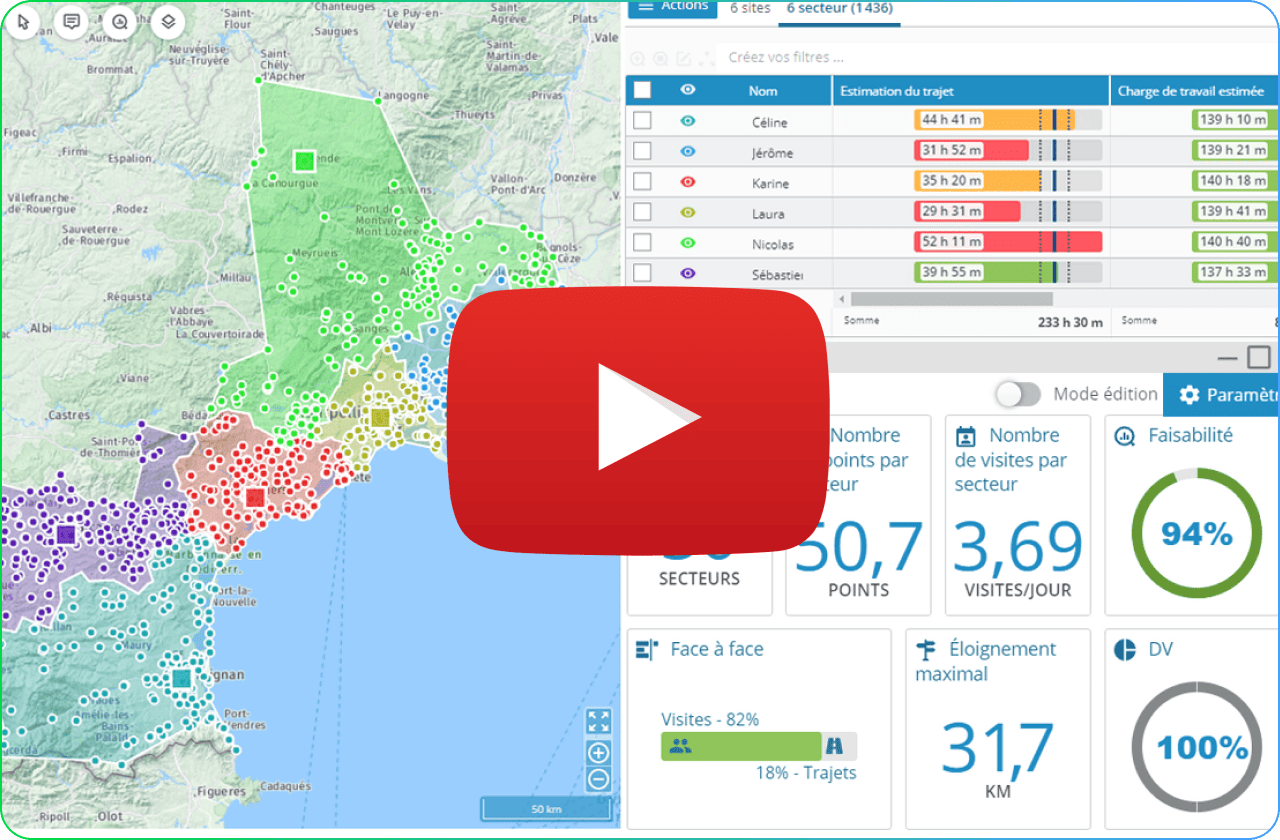 Based on user feedback from Gartner Peer Insights, Capterra and GetApp. Also voted Top Performer Summer 2022 by Sourceforge.
Establish sectors
adapted to your territory

and your strategy.

Optimizing your territory management allows you to determine realistic and achievable sales objectives, anticipate changes, optimally cover your sales territory, and improve your teams' efficiency.

Optimal sales sectors
Visualize your existing sectors and analyze your sales organization to highlight any inequalities and adjust the potential of your sectors whenever necessary.

Balanced customer portfolio
Balance your customer portfolio, distribute your field teams consistently across the territory, and determine achievable sales targets.

Immediate learning curve
Thanks to its intuitive interface, you can get started immediately: import and localize data, configure the tool, make dynamic modifications, activate automatic optimization…

Collaborative
work
Archive your simulations, explore the many possibilities of exporting your results, and share the new sales sectors with your employees.
All the
features

.

With Nomadia Territory Manager, optimize your sectorization to further ramp up the efficiency of your commercial strategy.
Create maps and dynamic graphs to represent key indicators and all kinds of business data:
sectorization around a given location (agency, home, etc.);
sectorization according to a polygon (postal code, IRIS, geographic units of analysis, etc.);
heat and flux maps;
isochrone maps, barycenters, etc.
Nomadia Territory Manager helps you identify imbalances and dysfunctions that could stand in the way of achieving your objectives: overly large sectors, non-equitable potential, customers not covered, and so on.
Sectors are automatically balanced using artificial intelligence to achieve optimal sectorization.

Sectorization according to points, around given locations, or based on polygons: a wizard helps you determine the ideal organization determined on the basis of your most relevant business indicators (turnover, number of points, etc.) to balance the field teams' workload.
A wide range of tools allows you to express your business knowledge by manually adjusting a sectorization.

Each time you make a change in the map such as transferring customers to another sector, for example, you can instantly see the impact on your key indicators (dynamic tables and graphs). Nomadia Territory Manager is a valuable decision-making solution that helps you make the right choices.
Automated comparison among various sectorizations, scenario simulation, and interactive adjustments make it possible to build the ideal sectorization.

Nomadia Territory Manager is a collaborative tool that allows you to easily share information and hypotheses and to export the results in the format of your choice (.png, .xlsx, etc.) at a click.
Drag-and-drop to import data from one of the many supported formats: Excel, CSV, Google Sheets, OneDrive, etc. Importing data, geocoding addresses, optimizing sectorization, and exporting the results is child's play!

The APIs of Nomadia Territory Manager also make it possible to integrate data directly from your applications.
Nomadia Territory Manager is an accessible tool that is quick and simple to learn, and it is compatible with touch screens. Customize the interface and take advantage of the built-in step-by-step guidance to discover and use the tool. No training is required to learn to use this solution.
Discover Nomadia Territory Manager in
one minute

!
Best Tool for Business Analysis

Several plans to meet
your needs

.

Compare the functionalities of the different versions of Nomadia Territory Manager to choose the one that suits you best.
Nomadia Territory Manager Essentials
Nomadia Territory Manager Premium
Nomadia Territory Manager Premium Plus
Data importation

Drag-and-drop data importation

Supported formats: Excel, CSV, Google Sheets, One Drive, etc.

Automatic aggregation/reventilation of points to administrative zones

-
Sectorization

Automatic sectoring based on business constraints

-
-

Automatic sectoring based on workload

-

Automatic sectorization with a target value, weighting the capacities of each territory

-

Observe several indicators

Modification of indicators in the interface

Advanced indicator calculation formulas

Consideration of workload (travel time + intervention time)

-

Sectorization of points around given locations

Sectorization based on administrative geographic zones

Creation of up to 200 sectors

Archival of studies including several scenarios

Customization of the interface

Validation option of operational load

-
-
Analysis

Visual representation of indicators (maps and graphs)

Calculation of barycenters, proximity, etc.

Addition of profession-specific layers

Analytical representations on the map (thematics)

Information sharing

Sharing scenarios with collaborators

Export results: Map, Excel, CSV, Google Sheets, Geometries, KML, PDF

Integration (API)
-
-

Access to the study created in web mode with all interface options

-
-
-
-
Up to 50,000 points

Result exportation via API

-
-
What
our customers

who are optimizing their sales sectors have to say about Nomadia solutions.
Nomadia Territory Manager is a powerful solution crafted to enhance the efficiency of your sales sectors.
It enables your business to effectively allocate work within your sales territory, fostering improved strategies and heightened performance.
This tool aids in establishing achievable sales objectives, maintaining a balanced customer portfolio, and boosting the productivity of your teams.
Nomadia Territory Manager employs sophisticated algorithms to optimize your sales sectors.
It considers various factors such as location, geography, sales potential, and customer distribution.
The tool is capable of identifying imbalances in your existing sectors and providing recommendations for adjustments to achieve maximum efficiency.
Nomadia Territory Manager is versatile and flexible, offering advantages across various industries.
It is suitable for businesses aiming to enhance the management of sales sectors, attain equilibrium in customer distribution, and establish realistic sales targets.
Whether your enterprise is small or large, Nomadia Territory Manager can elevate the optimization of your sales sectors.
The timeframe for realizing results can fluctuate based on the complexity of your business and how effectively you utilize the tool.
Nevertheless, numerous users have reported experiencing immediate benefits upon implementing Nomadia Territory Manager, such as achieving more balanced sales sectors and increased sales efficiency.
Yes, Nomadia Territory Manager offers tools for in-depth data analysis, encompassing the creation of maps and dynamic graphs to illustrate essential indicators.
The software also incorporates collaborative features, enabling you to archive simulations and share sales sector data with your team, fostering well-informed decision-making.
Yes, Nomadia Territory Manager provides different versions, including an API option for smooth integration with your current business applications.
You have the capability to import and export data, and collaborate by sharing scenarios with your team, making it a tool that is both user-friendly and adaptable.
Our
news and tips

for territory management.
Request a
personalized demonstration

, a free trial or a quote.

Want to learn about our prices, receive a personalized demonstration of Nomadia Territory Manager, or request a specific quote? Enter your contact information below, and our experts will get back to you as soon as possible.
Any further
questions

?

You'll find the answers to our customers' most frequently asked questions here.
Nomadia is the leading French publisher of SaaS Smart Mobility solutions, guiding more than 175,000 professionals in the field every day. Our solutions are easy to use and quick to roll out, and they guarantee a significant, immediate return on investment.
Combining the expertise of a software integrator / editor with that of a consulting firm, Nomadia's teams provide you with customized support, from data consulting to the roll-out of mobile terminals. Moreover, our technical support is available 24 hours a day, seven days a week.
Nomadia solutions guide the digital transformation of all types of mobile professionals: traveling sales representatives, delivery drivers, technicians, auditors, healthcare personnel, diagnosticians, service providers, patrolmen, experts, and more.
From small- and medium-sized companies to large corporations, our solutions can be adapted to companies of any size and in any sector.
Each Nomadia solution consists of a ready-to-use SaaS which includes a back office and a mobile business application specially designed for field operations.
Our APIs and their many connectors allow you to integrate our technologies into third-party applications, whether those are custom solutions or market standards.
Our consultant teams can also help you set up a customized solution that is perfectly adapted to your business processes.
As a company committed to the planet, Nomadia naturally asserts a strong CSR (Corporate Social Responsibility) approach. We integrate social, ecological and economic issues into everything we do.
By optimizing the mobility of mobile professionals, our solutions help improve our customers' productivity, the well-being of their employees, and the impact of their businesses on the environment.
The Nomadia teams are available to answer all your questions: