Nomadia unveils Opti-Time Field Service -
Fall 2022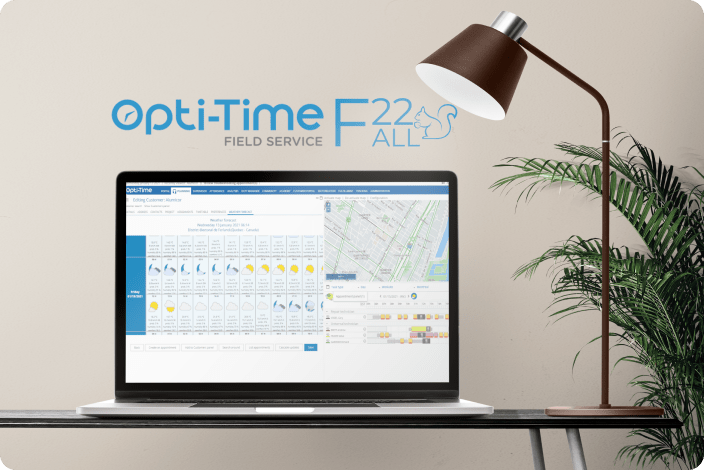 This scheduling and field service optimization solution comes with new artificial intelligence algorithms for predicting missions and anticipating hazards (for example weather-related hazards) even more accurately while helping companies to decarbonize their activities.
Paris, 18 October 2022 – Nomadia, the leading French publisher of smart mobility SaaS solutions for mobile professionals presents the new version of its field service management solution, Opti-Time Field Service – edition Fall 2022. The optimization engine incorporates new artificial intelligence algorithms to help schedulers more accurately predict their technicians' activities, aligning them even more closely with ground truth while anticipating hazards.
Artificial intelligence for predicting activities and anticipating hazards
In addition to proposing the optimal appointment timeslot, data modelling and a self-learning mechanism now enable the Opti-Time Field Service solution reliably and accurately to predict call duration, the number of operatives required, and the equipment they need. In addition to the resulting productivity improvements, customer satisfaction is also improved by communicating more accurate call timeslots and by more rigorous compliance with commitments.
Connected as it is with weather forecasting web services, the Opti-Time Field Service solution also uses artificial intelligence to tailor activity to weather conditions. The administrator can avail him or herself of numerous parameters to personalize the inclusion of weather forecasts in the schedule: thresholds triggering periods of inactivity depending on rainfall, snowfall, wind or heat levels, notifications in the event of changing weather conditions impacting confirmed appointments.
Helping companies electrify their fleets
For the past year now, the steep rise in petrol and diesel prices has accelerated the transition of company vehicle fleets to electric. To support this decarbonization of transport, Opti-Time Field Service incorporates numerous new electric vehicle fleet-related parameters (battery type, required charging time, range…) as well as a map of all public and private charging stations. The technicians' vehicles can therefore be recharged close to a call location without disrupting their schedule.
Other new Opti-Time Field Service – Fall 2022 features:
Sophisticated restriction and threshold management
Each solution administrator can program his or her own restrictions: maximum mileage, daily travel time or "cut-off" deadlines to define even more customized schedules and appointment booking. The administrator can now easily amend them himself within the software.
Direct document access from the field
In the field, Opti-Time mobile application users have all the documentation they require for their calls: instruction manuals, procedures… Administrators can export their entire in-house library into the solution.
Single Sign On (SSO) connection
To make the solution easier-to-use and more secure for technicians, Opti-Time Field Service enables single authentication (SSO) sign-on. This ensures consistent company IDs and makes it easier for users to access the solution, from the mobile application as well.
Out-of-hours and availability
The out-of-hours co-worker can now easily be identified from the customer file to respond to the customer's emergency call requests. If there is no operative assigned to the customer (co-worker is absent, on holiday…), an alert notifies the scheduler directly to this effect, who can therefore respond accordingly. Customer service becomes more efficient because out-of-hours availability is displayed more quickly, limiting the risk of unavailability for the customer.
Consistent information
The software features new cascading fields ensuring much more reliable and standardized information capture. Human error is thereby eliminated from the note taking process and information is available more quickly.
Change history
Where several co-workers have access to the same appointment files, a History tab now automatically records all the changes made by the administrator or by a co-worker to facilitate tracking.
Taking it to the next level
The Opti-Time mobile application is available for all field resources, at no extra cost, on Google Play or the App Store
There will be demonstrations of Opti-Time Field Service throughout the Mobility for Business fair on 11 and 12 October 2022.