Nomadia Sales

, the sales force CRM that understands your professional needs

Solvnet becomes Nomadia Sales ! Improve your sales team's performance with the 100% retail CRM. With Nomadia Sales, your sales force can efficiently prepare for their customer visits, making a difference in the field!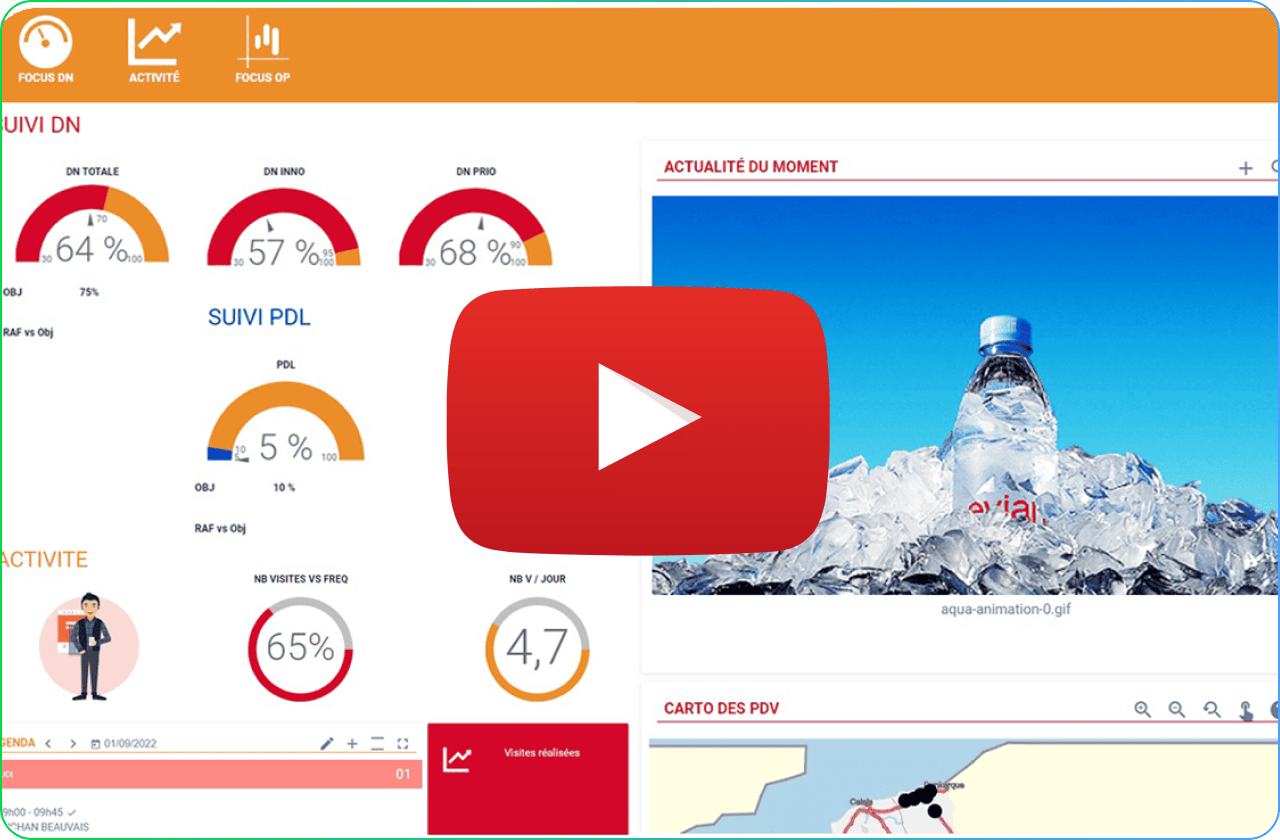 A
360° customer vision

for optimal performance

Nomadia Sales is the benchmark CRM solution for supermarket and hospitality industry specialists to accelerate your sales teams' performance. An all-in-one CRM for a complete customer vision to reach your objectives.

More time with your customers
Better customer knowledge, a balanced sales territory, and an optimized visit route guarantee improved sales team availability.
20% increase in productivity
Saving time in preparing visits and facilitating information capture in the field allows sales representatives to make more customer visits, reduce the number of ineffective visits, and achieve their objectives.

Efficient sales management
Integrated Business Intelligence facilitates business quantification, analysis and management. It helps you keep operations cost-effective and fully monitor the achievement of objectives.

Strong, sustainable CSR commitment
Implementing digitalization tools for field teams helps improve the working conditions of the sales force and considerably reduce the CO2 emissions arising from their travel.
All the
features
With Nomadia Sales, prepare your customer visits efficiently, optimize your operation performance, and make a difference in the field!
The 360° customer summary – illustrated by a number of indicators, visual alerts, and sales supports – provides the sales force with a clear, comprehensive vision of the principal actions to perform:
negotiations and operations underway;
out-of-stock alerts;
digital availability indicators;
history of visits per point-of-sale;
A global vision that helps increase sales teams' efficiency on a daily basis..
Which clients to visit? Which contacts to favor? What actions to perform?
Nomadia Sales allows you to build a Perfect Store-inspired scoring approach. Thanks to indicators and alerts, each salesperson can identify the priority stores to visit to maximize the achievement of their objectives: retail operations, sub-visits, digital availability / shelf space thresholds, potential, etc.
Nomadia Sales integrates a proprietary superstore database that can manage an entire supermarket chain (physical stores and drive-in stores).
A true reference on the market, this database is updated every month from a number of verified sources. It facilitates changes in sectorization and modifications of the store chain while ensuring that they are reliably taken into account.
Nomadia Sales is the benchmark CRM for managing and directing the implementation of your most ambitious operations while quantifying the performance of your sales force with regard to the resources available to them.
Highlights, quota management, determination of personalized workflows, reporting on promotions, inventory tracking, etc.: The teams are fully equipped to promote your products effectively.
Nomadia Sales' powerful built-in route optimization engine assists the sales force in efficiently preparing their routes. By taking into account a number of parameters (store opening hours, department manager availability, geographic location of customers and prospects, traffic statistics, etc.), Nomadia Sales designs an ideal route to reduce the distance traveled and maximize the time devoted to customers..
More appointments and less unproductive time on the road: sales teams improve their productivity in the field and significantly reduce the environmental impact of their travel.
The Nomadia Sales interface is optimized to facilitate data capture in the field. From shelf surveys to report entries, a personalized path guides the salesperson step-by-step through the actions to be performed at the point of sale. It also provides access to all the key information:.
customer information;
sales pitches;
digital availability and customer activity indicators;
list of contacts at the point of sale, etc.
Various forms may be set up according to the type of statement or report to be made, and the salesperson can easily add photos, videos and documents to them
The automated management of your sales processes improves the efficiency of your salespeople in the field. Thanks to built-in order-taking features, the sales representative may quickly enter information and any terms and conditions that have been negotiated with the customer. Direct access to up-to-date data from the product repository makes ordering easier and more reliable:
Out-of-stock visibility;
POS order history ;​
Product visuals;
Quantities, SKUs;
Discounts provided;
EAN codes, internal article codes.
Sales representatives efficiently advise and provide for clients using a personalized, fully integrated sales book. Listing all the items in the sales catalog, the book gives direct, detailed access to the documents required for sales: product documentation (by category or sub-category), customer information (by brand, client group, etc.) and sales pitches (company presentation, brand news, etc.).
Promoting client interactivity, the book assists the sales representative in creating and presenting personalized offers to customers.
As an SFA Analytics CRM, Nomadia Sales integrates Business Intelligence to allow you to track your key KPIs and make the best decisions.
Control the efficiency and cost-effectiveness of operations, accurately evaluate whether objectives have been achieved and what work remains to be done, measure market shares, etc.: Steering dashboards and dynamic graphs help keep you on course. Nomadia Sales' built-in reporting templates make it a powerful data-sharing tool at both the national and regional levels.
Maps are central to the Nomadia Sales CRM. They allow you to visualize and analyze your sales performance by sector, catchment area or sales outlet. Integrated geomarketing capabilities make it possible to identify potential territories and assess competitive interactions.
The offline mode gives the sales force permanent access to the customer repository and all the information required to perform their client consultations. With Nomadia Sales, the lack of network coverage in certain areas is no longer a problem.
Nomadia Sales is not only easy to use, it is also extraordinarily fast to implement. On average, it takes only five days to install, configure and begin using Nomadia Sales CRM. Our team of specialized retail experts accompanies you in the process, taking all your parameters into account: mobility, workload, strategic importance, etc.
Who

is Nomadia Sales for?

Specializing in supermarkets and selective circuits, Nomadia Sales supports your sales teams at headquarters and in the field on a daily basis.
Sales administration

Optimize information flows
Manage databases and typologies
Update customer and product data in a centralized way

Sales forces in the field

Prioritize customer visitation according to objectives
Optimize sales performance
Follow up on innovations and manage resources

Sales management

Follow up on objectives vs. field achievements
Manage sales teams' work
Develop turnover on a regional scale

Regional management

Manage performance nationally and locally
Optimize and leverage the category portfolio
Identify opportunities and develop MDPs
What our
customers

optimizing their sales forces have to say about Nomadia solutions
Agile - user-friendly - structuring - connected

A virtuous digital sales loop

Nomadia Sales is a sales force CRM that helps improve the performance of your sales team. Our retail-focused CRM enables you to enhance productivity by optimizing your field sales representatives' visits. With balanced territorial segmentation, your teams can schedule more appointments and spend more time with your clients. This tool contributes to improving the working comfort of sales forces and significantly reduces CO2 emissions related to their mobility.
Nomadia Sales is the leading CRM solution for GMS (Grocery and Mass Merchandise) and CHR (Café, Hotel, Restaurant) specialists. It is suitable for companies looking to enhance the performance of their sales teams, achieve productivity goals, and better manage their activities.
Our clients experience immediate benefits after implementing Nomadia Sales. The solution allows you to effectively prepare your client visits, optimize the implementation of your operations to make a difference in the field, and improve your company's performance !
Easy to use, our Nomadia Sales CRM has an unparalleled implementation speed. On average, only 5 days are needed to install, configure, and adopt Nomadia Sales. You can import and export your own data, enrich it with our integrated GSA (General Sales Agent) database to collaborate by sharing scenarios and results with your team.
Yes, Nomadia Sales provides an offline mode, allowing sales forces to access the client repository and all necessary information for successful visits continuously. With Nomadia Sales, the lack of network coverage in certain areas is no longer a problem.
Nomadia Sales integrates Business Intelligence to allow you to monitor your key KPIs and make informed decisions. The built-in report templates in Nomadia Sales make it a powerful data-sharing tool on a national and regional scale.
News and tips

for your sales force.
Request a
personalized demonstration

or a quote.

Want to learn about our prices, receive a personalized demonstration of Nomadia Sales, or request a specific quote? Enter your contact information below, and our experts will get back to you as soon as possible.
Any further
questions

?

You'll find the answers to our customers' most frequently asked questions here.
Nomadia is the leading French publisher of SaaS Smart Mobility solutions, guiding more than 175,000 professionals in the field every day. Our solutions are easy to use and quick to roll out, and they guarantee a significant, immediate return on investment.
Combining the expertise of a software integrator / editor with that of a consulting firm, Nomadia's teams provide you with customized support, from data consulting to the roll-out of mobile terminals. Moreover, our technical support is available 24 hours a day, seven days a week.
Nomadia solutions guide the digital transformation of all types of mobile professionals: traveling sales representatives, delivery drivers, technicians, auditors, healthcare personnel, diagnosticians, service providers, patrolmen, experts, and more.
From small- and medium-sized companies to large corporations, our solutions can be adapted to companies of any size and in any sector.
Each Nomadia solution consists of a ready-to-use SaaS which includes a back office and a mobile business application specially designed for field operations.
Our APIs and their many connectors allow you to integrate our technologies into third-party applications, whether those are custom solutions or market standards.
Our consultant teams can also help you set up a customized solution that is perfectly adapted to your business processes.
As a company committed to the planet, Nomadia naturally asserts a strong CSR (Corporate Social Responsibility) approach. We integrate social, ecological and economic issues into everything we do.
By optimizing the mobility of mobile professionals, our solutions help improve our customers' productivity, the well-being of their employees, and the impact of their businesses on the environment.
The Nomadia teams are available to answer all your questions: