Field professionals: having a
mobile business application

is no longer a luxury but a necessity!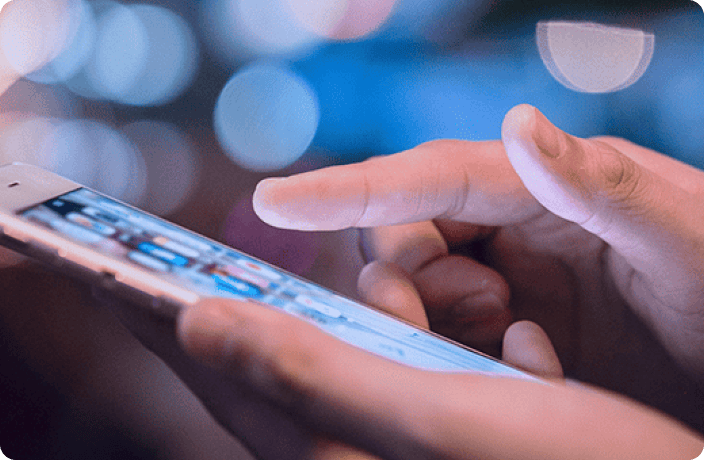 Salespeople, technicians, and delivery personnel spend most of their working life in the field. Next-generation mobile applications bring together everything they need to optimize their movements, their calls and customer interactions – at their fingertips!
Those who experienced pagers and the first mobile devices will remember them without nostalgia: the former had extremely limited features and the latter, as specific as they were expensive, were doled out sparingly to mobile staff. Fortunately, the smart phone revolution intervened! Nowadays, from a single application, any professional equipped with a smart phone, or a standard laptop can access the entire range of information and tools he needs to work efficiently while out and about.
Equipping your mobile teams with this sort of application is no longer an option or a luxury, it has become a necessity, at least if you want to:
Maximize your co-workers' "productive time"
namely when they are doing what actually creates value for your company, rather than administrative tasks which, no matter how indispensable they are, do not harness their core skills.
Develop the digitalization of your company
typically by eliminating paper and thereby automatically recovering all the necessary data for analyzing and managing performance, for day-to-day management, for preparing operations, and for customizing the client relationship.

Increase your teams' responsiveness and safety
in the field, by enabling them to be geo-located and remain in constant contact with your organization so as to respond quickly to any unforeseen events (cancelled appointments, delays, emergency call-out…) or to obtain immediate assistance in the event of danger or difficulty.
Make a difference in your customers' estimation
thanks to co-workers who can adhere to call-out time and duration undertakings, give notice of their arrival and to carry out each operation because they have all the necessary skills and tools to complete their calls successfully.

Retain your co-workers
by offering them the best working conditions, and intuitive and user-friendly tools that make them more independent and boost their individual performance, while helping to upskill them.
A single app for everything (or almost)
New generation mobile applications are designed as fully fledged hubs, the features of which you select depending on each business's individual needs. Instead of having a mobile extension for each business software product used in your company, your mobile co-workers have a single point of entry to all the resources appropriate to their profile and area of responsibility. Here are a few examples of what they can do in the field – at their fingertips and without switching between applications.
See their roadmap/diary
That's no big deal, you will say. But there are diaries and diaries! To be really useful, today's diary is dematerialized and interactive. Not only does it provide the list of appointments and the route plan generated by the scheduling software, but also each customer's exact whereabouts. Functional integration enables GPS guidance to be activated without having to input the address or call the customer without dialing their telephone number to notify him of a delay or your imminent arrival on site.
The link with the central application enables the co-worker in question to be notified in real-time of last-minute changes (appointment cancelled by the customer, emergency to be incorporated…) and to have a diary that is always up-to-date.
As the contact details are provided by integration with the company's CRM, there is no data re-entry – which, in addition to everyday time-savings, maintains the quality and integrity of the contact database. If while in the field the co-worker notes that certain information are incorrect(address, floor, telephone number, GPS coordinates…), he can update them. His changes are then automatically uploaded to the CRM.
(Re)schedule an appointment from the field
The delivery or salesperson who finds nobody in, or the technician who concludes that a second call will be required can schedule or reschedule appointments from his application. Without calling the company, he has access to a list of pre-optimized timeslots depending on his own workload and the customer's geographical location, together with profitability and prioritization criteria that are defined in-house. These may be dictated by the customer's status, commitments under his service level agreement (SLA) and/or quite simply minimizing the mileage to be covered in a working day. The timeslot selected by the customer is automatically recorded and the routes recalculated accordingly by the optimization engine.
Better preparation of routes and calls
What is more disastrous from a customer's perspective than a technician who arrives without that vital item of equipment or with the wrong spare part? What is more time-consuming for a delivery person than having to track down in the innermost recesses of his vehicle the customer package that needs to be delivered first? You can avoid these situations by providing your co-workers with intelligent tools that can be accessed from their mobile application, for example:
The list of equipment required for the day. This list is generated automatically from the list of characteristics of the planned calls. Prior to departure, the resource consults the list and checks off each item as he loads the required tools and parts. Even easier, he scans the barcode or QR code of each element with his smart phone. If he forgets a part, he is notified and can rectify his oversight before starting off.
In the event of a part or tool not being in the depot, he can also initiate a search to find out if one of his colleagues is able to help him out. Once the colleague has been identified, the optimization engine calculates and communicates the time and place where they can meet, with the least possible impact on their respective routes.
The vehicle loading procedure. Whether loading is the delivery person's or depot teams' responsibility, it can be accomplished in the optimal sequence in relation to the route, once again based on a dynamic list and by scanning the packages one by one. In addition to the time saved during deliveries, the company increases package traceability, each of them being scanned as it is loaded into the vehicle and when it is handed over to the customer, corroborated by the time stamp and geographical coordinates associated with the scan.
Being guided and assisted in their tasks at the customer's premises
Accompanying each job ticket with a list of predefined tasks that the resource follows and checks step-by-step on his mobile is the best way of ensuring that what needs to be done at the customer's premises is done according to the state-of-the-art and in compliance with safety standards and procedures.
The use of augmented reality enables support for one's resources to be taken to the next level. By scanning the QR code on the appliance to be repaired, the repairer or maintenance technician sees on his smart phone's screen what he needs to do first, and the order in which things need to be done. He also has access to rich content (photos, assembly plan, videos) which help him to achieve his assignment from start to finish, without jeopardizing his health and without risking damage to the customer's appliance or installation. This assistance is especially valuable and reassuring for beginners or new recruits, as well as for companies using interim technicians or subcontractors, and who want to ensure call quality.
Lightening the administrative load
Reporting call-out or service start and completion times, writing call-out or visit reports, getting the customer's signature… all this can now be done directly in your co-workers' mobile application, with no paperwork involved, with no risk that information will be lost and, above all, without spending hours on it or putting these tasks off until later!
Obviously, this requires a certain discipline, but if the application affords a pleasant user experience, if it has been configured to meet mobile users' specific needs, your co-workers will quickly understand what they stand to gain from it.
You can continue to tell yourself that it would be good to equip your sales force, your field technicians, or your delivery personnel with such a tool. You can also take action and maximize the value of your investment in advanced scheduling and route optimization solutions of which our mobile applications are the natural extension. Your co-workers will thank you for it. And your customers as well!