Carbon neutrality: cooperation between shippers and transport companies is required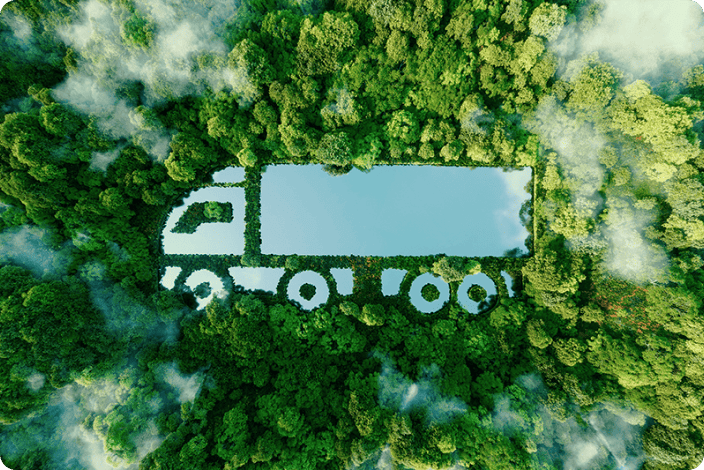 To achieve carbon neutrality in 2050, shippers and transport service providers are making common cause more than ever before. What solutions are they deploying and are they up to the challenge? Feedback from Geodis, Michelin, and Bosch.
If reducing CO2 emissions is integral to every company's CSR undertaking, it is now front and center of the relationship between road transport actors and their shipper clients. For decades, these relationships have been governed by costs, costs the transport companies had to drive down to win markets. But there's a new dynamic now. Christophe Duvernois, Director of sustainable development and CSR at Geodis testifies to this: « "for the past 2 or 3 years, we have been seeing more and more invitations to tender by shippers in which the environmental footprint of the transport movement is on a par with the price."*
Regulation is not the only driving force
This development is far more significant than it seems. It proves that the industrial company shippers have fully integrated the climate and environmental dimension into their economic and organizational model. If they are exceeding their purely regulatory obligations in this area, this is because reducing their own environmental footprint is critical for their future. For Antoine Chatard, CSR coordinator for Michelin's supply chain Europe, " the challenge is above all societal. When it comes to a company's viability today, it is difficult to contemplate economic growth without thinking about these issues. It is also a customer challenge: increasingly, our customers are asking us to make deliveries to them employing low carbon or carbon neutral solutions. Finally, engaging with these issues is crucial in remaining attractive on the labor market."
The most promising avenues
Sharing as they do the same goal – achieving carbon neutrality by 2050 – shippers and transport companies are joining forces to achieve it. The customer-supplier relationship which always gave precedence to the lowest cost providers, is giving way to a partnership logic which must of necessity be long-term if it is to be successful. Why? Because it implies important transformations and large investments on both sides. Migrating to rail, more virtuous than road in CO2 terms, is a good illustration of this. At Michelin, for example:
"3 years ago, one of our Polish partners came to us with a project proposal to create a rail link from Poland within one of our biggest production plants. We had to get this solution accepted in-house, review our existing agreements with freight forwarders etc. The transport company was the driving force behind the proposal. Today, we are operating with this train from Poland to deliver to Germany and dispatch our flows to Western Europe, with 2 movements per week. That represents around 70 trailer loads each week, and we are going to double this capacity in the next few months. In concrete terms, this will save around 7500 metric tons of CO2 per annum. That is huge. It represents around 10,000 trucks a year. When we publish these figures in-house, everyone buys in to it and wants to continue with it. This is a specific example which proves that collaboration can lead to nice solutions.".
Obviously, rail is not the answer to every problem. Bosch, 60% of whose goods arrive in France by rail, is deploying other virtuous solutions as well: "We had vehicles supplying the factories with components and other vehicles leaving these factories with the finished household appliances,, explains Gabriel Schumacher, logistics director at Bosch. We decided that the same trucks would supply the components and return with the products. We can also make triangular organizational arrangements which ensure that the transport companies are fully loaded on each journey, incentivizing them to commit to us based on long-term flows."
This type of agreement triggers a true virtuous circle: with greater visibility of volumes, transport companies are more inclined to invest in vehicles with lower CO2 emissions; they improve their own environmental performance, which increases their chances of winning invitations to tender from the most demanding shippers in this arena. It is also a factual response to the major problem of unladen mileage, which pushes up the cost of transport services and puts negative pressure on the carbon footprint of service providers and their principals alike. "Working with shippers on the empty journey problem is fundamental to reducing greenhouse gas emissions,, says Christophe Duvernois of Geodis. We still have a long way to go in this field."
One should not imagine that these projects are quick and easy to implement. In addition to a long-term mutual commitment, they require industrial companies to be receptive to practices that are more topical than ever before: pooling transport (including with direct competitors), re-engineering and if need be pooling their distribution network, or relocating production to be closer to consumer markets, depending on the scope for modal shifts. Taking decisions such as this with one's eyes open requires specific tools: tools such as our Territory Manager which makes it possible to analyze and compare the various location and territorial segmentation options, simulate flows, make assumptions, and choose the best in light of the parameters one wishes to prioritize.
A growing need for advanced technologies
The complexity of modern logistics chains makes planning, analysis, optimization, and flow and route management tools indispensable, not only for the transport service providers but for their shipper customers as well. One of the areas for improvement identified by Michelin is to incentivize its service providers to use a TMS (Transport Management System). Antoine Chatard is thinking especially of dynamic TMS, which "recalculate the roads used, and the routes, daily, or even several times a day, depending on the orders received to align transport resources as closely as possible with needs. These tools are essential levers for reducing mileage, minimizing unladen mileage, and optimizing day-to-day transport, and thus CO2 emissions." 
The other component in which companies are investing to reduce their environmental footprint is traceability.  Bosch is banking on the IoT and big data to ensure the traceability of its products throughout their life cycle: "In the near future, a Bosch domestic appliance will be traced from the moment it leaves the factory to the moment it is dismantled. The product will transmit to say I am in such and such a vehicle, such and such a warehouse, with such and such a customer, I am going to break down soon, I have broken down, but I will continue to transmit until someone comes to pick me up. This is our response to the AWCE Law (Anti-waste and Circular Economy)."
This need for traceability is also very much in evidence with transport companies, originally more to ensure the security of the products in transit than for environmental reasons. For Christophe Duvernois, "traceability is part of our DNA. This is what prompts me to say that nowadays, Geodis carries more data than goods. We are becoming driven. It is also crucial in the CO2 information space: the profession needs to develop its data capabilities and skills, and each company needs to acquire a dedicated CO2 data management information system. The goal is to be able to calculate emissions in real-time taking account of all parameters: vehicle type, actual consumption, load coefficients, etc. Few companies are there yet because it is complex and still very new."
Is neutrality possible in 2050?
Here the responses from three companies:
Gabriel Schumacher, Bosch – "the Board's objective remains carbon neutrality in 2050. As someone involved in the supply chain, I am taking specific initiatives. But the target concerns Bosch as a whole: all Bosch factories, all its suppliers, the entire transport network, etc. We are segmenting what we do to win victories en route to the final goal, but there are difficult obstacles to be overcome. For example, the warehouse I manage was built in 1997. No matter what I do, it will never be neutral. Do we need to relocate? Tie up capital? Have our co-workers relocate? It really is not simple. Neutrality is the goal. It is not utopian, but it is only achievable in the long term."
Christophe Duvernois, Geodis – "In 2017, we committed to reducing our greenhouse gas emissions by 30% by 2030. Today we are at around -20% on all our target areas (1, 2 and 3) for the Distribution & Express piece. Everything depends on what you include: certain people confine themselves to target areas 1 and 2 and exclude target area 3, which relates to their partners. You also need to know if you are measuring the reduction in intensity or as an absolute value, which is not at all the same thing. And then we take account of consumption-related emissions for vehicles and buildings, but not construction cost-related emissions. If we need to include all these aspects in the calculation, I do not believe in transport sector neutrality in 2050. We are going to improve and perform better, but if we are talking about reducing our total footprint, in all its complexity, I don't think so."
Antoine Chatard, Michelin – "As concerns the transport component, at Michelin, we have not yet reached carbon neutrality, far from it. We set ourselves a roadmap in 2018 for reducing our logistics emissions by 15% by 2030. This may appear very little, but we are working daily to achieve even this target. Up until last year, we were on track thanks to major projects, especially in the rail sector. We need to find new levers, but we already know that alternative energy sources will not suffice. Electric trucks are a good solution for last-mile distribution. Unfortunately, our partners are still in the testing phase. I am not criticizing them: this is very expensive, it's a big investment, it's new. Testing is already a step forward. We need to tackle all these subjects at the same time, find new levers, optimize our network, relocate production. As for carbon neutrality in 2050, if I do not mention it, it is because I have not yet found a solution…"
* All quotations are derived from the "Responsible commitment by shippers, the key to supply chain carbon neutrality?" conference that took place on 5 April 2022 under the auspices of the SiTL.